Music venues get in on the next stimulus package
The long awaited, follow up stimulus package has reportedly finally been agreed upon in Congress, and this time, there's something great awaiting owners of music venues and theaters, thanks to Minnesota Senator Amy Klobuchar and others.
Since March of this year, small businesses have been feeling the heat of business restriction put in place across the country to help reduce the spread of the novel coronavirus. As the COVID-19 pandemic made it's mark on each industry, entertainers and venue owners struggled to make ends meet in a world where live performance is far from a possibility. Many of the measures put in place to help small business owners were unhelpful to staff. With no shows to host and no crowds to attend, keeping doors open wasn't an option for many in the music industry.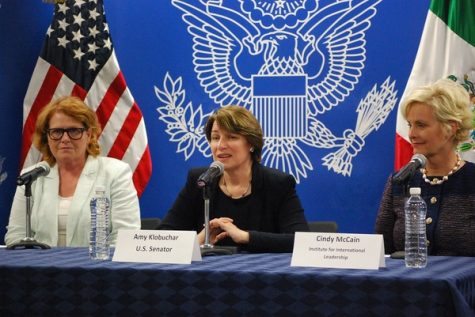 But no longer. After the passing of the first stimulus bill, a new lobbying group that calls themselves the National Independent Venues Association, or NIVA for short, formed in the interest of venue and theatre owners. This new group is pushing to pass a bill introduced in July by Minnesota's own Amy Klobuchar and John Cornyn from Texas.
The bill, called the Save Our Stages Act, allocates $10 billion to venue owners, promoters and other music business professionals to use for rent, utilities, mortgages, and PPE. The fund will be open for any venue that applies through the SBA, with a maximum of $10 million for a single institution. 
Congress passed a second relief bill on Monday, December 21st, after months of deliberation, and much to the excitement of venue owners and entertainers, the entire bill was adopted into the passing of the stimulus package, meaning the $10 billion allocated to music businesses will become a reality within two weeks of the passing of the law.
Klobuchar expressed her surprise in an interview with Rolling Stone: "It is so not in the normal course of things that you get an entire bill in as you wanted it. And you actually add funding, because we added partners, but didn't hurt our original purpose. And this never would have happened without the fans and venues and musicians and theaters across the country." 
According to the Rolling Stones interview, the passing of the bill in the stimulus package was marked by bipartisan support; a commodity that's rare in this session of congress.
"I think that through the horror of this pandemic and all the tears and tragedy, people embraced music and culture more and more. But they were just alone doing it on their computers and their phones, and they want it back." Klobuchar told Rolling Stone. "They want that sense of community….. Secondly, the emotional value of it you cannot take away. And the fact that people like different kinds of music, but they're united in liking music."
To see Klobuchar address Congress regarding the Save Our Stages Act, click here.
About the Contributor
Grace Radeke, Journalist
Grace Radeke ('21) is new to writing for the LeSabre this year as a senior. She enjoys writing about politics and human interest topics. In her spare time...