'Weird!' an album about embracing everything that makes you unique
Weird! Yungblud's sophomore album was released on December 4th, 2020, and is a magnificent display of uniqueness and creativity. It dives deep into breaking social and gender norms and isn't afraid to be a little bit weird. 
Yungblud, also known as Dominic Harrison is an alternative-punk singer, songwriter, and musician from Doncaster, UK. His first album 21st Century Liability was released July 6th, 2018, and his follow-up EP Hope for the Underrated Youth released October 18th, 2019 all had good and mixed reviews. 
Weird! breaks new ground on having controversial topics in music and is constantly shifting between genres, from melancholy alternative serenades ("love song") to breakout pop-punk anthems ("ice cream man"). 
View this post on Instagram
The album goes through the ups and downs of being human, and all the emotions and experiences that we all go through. Whether that be figuring out your sexuality, or dealing with family issues, or finding love and acceptance in the world, we are all human in the end. We are all connected in ways we sometimes don't even realize.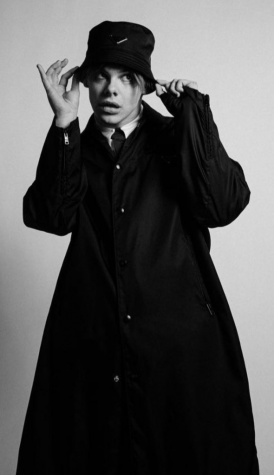 One of the most unique things about being a Yungblud fan is the overwhelming sense of family and always being able to show people who you really are. Yungblud is not solely one person, it is a community of people who are able to truly be themselves and lift each other up when they need it. This album is definitely one you should check out. Not only is it expressive, real, and heavy-hitting (in sound and message) but also one that shows people what it really means to truly express who you are no matter how weird it might seem.
Some of my favorite tracks on the album are 'mars', 'love song', 'acting like that', and 'ice cream man'. 'mars' especially has a pretty important message of acceptance and love; the song was inspired by a story of a young transgender girl who just wanted her parents to accept her for who she was, and after finally bringing them to a Yungblud concert, they accepted her.
"They saw the passion, the energy, the noise, and the sheer reluctance to be anything other than who [my fans] are, and they accepted her as their baby girl." a quote from Yungblud about 'mars' from Apple Music. 
There is a special appearance from alternative-rock favorite Machine Gun Kelly on the track 'acting like that', the song is about finding someone acting immaturely when they are way too hot or cool to be acting like a child. The song along with the single 'I Think I'm OKAY' (that also featured MGK) came into fruition after the passing of Juice WRLD and a long night of sitting in sadness before finally realizing that life is way too short to be acting sad, and you need to live in the moment.
With COVID restricting the gathering of crowds at concerts, Yungblud put on virtual shows for the 'Weird Time of Life Digital Tour' so fans around the globe were able to attend dates virtually from Nov. 16th to Dec. 7th. Currently, there are tour dates set for 2021 across Europe, hopefully, Yungblud will finally be able to perform Weird! live for audiences soon.
Until then, stream Weird! on Spotify, Apple Music, or wherever you listen to music.
About the Contributor
Charlie Monson, Journalist
Grade: Senior

Hobbies: Watching movies, playing video games, doing art, listening to music, and hanging out with friends

Favorite band/singer: Arctic...