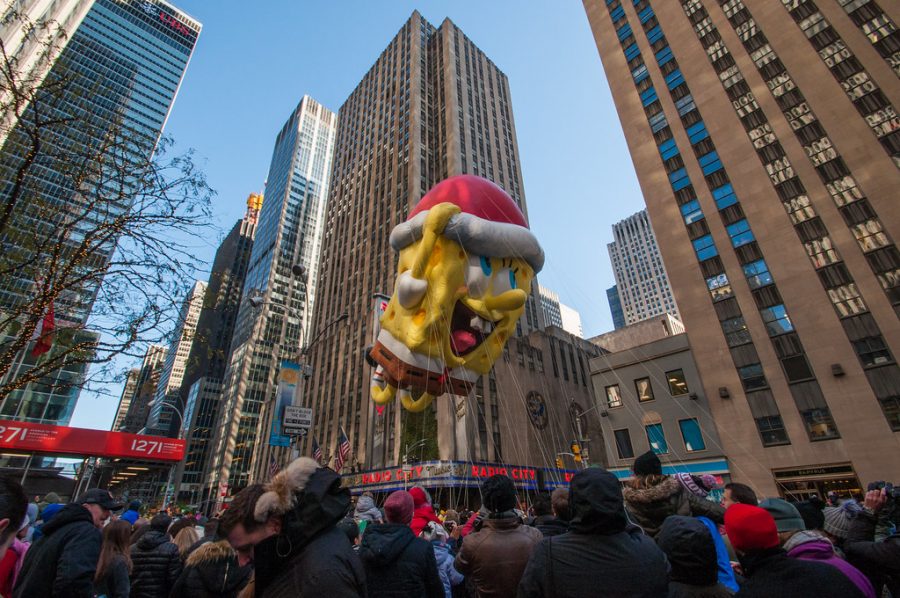 "SpongeBob SquarePants - Macy's Thanksgiving Day Parade" by paul.wasneski is marked under CC PDM 1.0. To view the terms, visit https://creativecommons.org/publicdomain/mark/1.0/
Never fear, though this year's Thanksgiving may have involved more Zoom gatherings than normal, Macy's still ushered in this holiday season with a parade, of sorts.
This year's Macy's Thanksgiving Day Parade was somewhat mitigated, as most events have been this year. New York City Mayor, Bill de Blasio, announced on November 16th, that the annual parade will go virtual, foregoing the nearly 3 mile parade route for a handful of floats.
The previous route, typically 2.5 miles, was shortened to a single city block (still in front of the iconic Macy's flagship) holding five floats that will have all the iconic balloons tethered. 
As crowds are still not recommended per CDC guidelines, in-person crowds were absent, and the entire event was televised. The usual live performances by pop-culture artists, Rockettes, and NYC residing Broadway casts were pre-recorded, with their first time being viewed during the scheduled "parade." 
Though this shortening may seem like a disaster, of parade sized proportions, this is far from the first catastrophe that the Macy's Thanksgiving Day Parade has seen in it's 96-year-history. Ever wonder how many times one of those creepy balloons has been cut loose? More times than you might think.
According to CNN, the first incident of the sort was the first year that the parade marched giant balloons, when Felix the Cat popped mid-descent after catching on fire. They really started with a bang. This is to be expected in the first year of flying animals, but this was only the beginning. 
Perhaps you've seen the viral video of balloon handlers (which is a real, paid position) wrangling a runaway Barney balloon? Or maybe you remember hearing an urban legend of a parade-goer getting hit with a balloon and sustaining somewhat serious injuries? Surely a gigantic Barney, filled with nothing but helium, could never cause too much trouble.
Oh how naïve we can be. Those harmless balloons can weigh 400 pounds. I'd hate to be the tree that gets hit with Kermit. As you may expect, these gigantors aren't easy to replace. Some balloons, like Sonic the Hedgehog, who crashed into a lamppost before crashing into a police officer, become too damaged for continued use. Some take years to repair or are taken out of the parade completely.
And these accidents are hardly few and far between. They became so prevalent, in fact, that popular sitcom Friends had a key Thanksgiving episode revolving around the accidental freeing of a parade balloon.
Some notable mishaps include the first tearing of a balloon in 1985, when Kermit the Frog deflated over an entire crowd. The following year, Superman lost an arm in an epic battle with a tree that he ultimately lost. Possibly the most infamous event in the Cat in the Hat hitting a lamppost in 1997. The lamppost, after getting Seussed, fell on a bystander, who was subsequently comatose for the following month. However it doesn't end there.
Most incidents are undocumented or not too memorable; unless they caused serious damage or injury, balloon mishaps are generally described as having "problems," which makes them sound like children being coerced into flying over 74th Street.
So perhaps a virtual celebration, for this year, anyway, is for the greater good of lamppost and tree branches everywhere.
Believe it or not, there's a Macy's Thanksgiving Day Parade fandom with their own webpage, complete with a comprehensive list of balloon "problems". Enjoy more mishap stories here.