Black Friday may be the latest COVID-19 loss
Is Cyber Monday the new Black Friday? In the midst of a global pandemic, shoppers and store owners alike wonder if the American tradition of standing in line at all hours of the night for dirt-cheap prices will hold up, or if online shopping is the way to go.
So concerts, football, and Sunday brunch, all activities involving some sort of crowd, have been cancelled (or largely moved online) until further notice. For many Americans, the prospect of pushing through shoppers for the purpose of buying gifts for the holiday parties they won't be attending seems to be a little too pre-pandemic.
Since the 1960's, the Friday following Thanksgiving day (and sometimes even the night of) marks a date when vendors slash their prices to clean out inventory and make room for new, usually holiday themed merchandise. At many big shopping centers and retailers, these price drops attract lines of hundreds of customers who will wait for hours in order to get a chance to shop. In typical, competitive American fashion, customers are eager to get their hands on whatever goods they stand in line for, and are willing to bulldoze other customers in the process. 
Thinking this doesn't sound too socially distanced? You're not alone. Many retailers, including Macy's and Walmart, have already announced that they've made the decision to keep their doors closed on Thanksgiving day, straying from their usual 5 pm opening for early shoppers. Other businesses, like Target and Amazon have announced that their sales will span the whole month of November, in order to curb crowds on Black Friday. Target has had Black "Friday" advertisements since late October, hoping to reduce the amount of foot traffic in a single day.
Back in July, CNN actually declared this year's Black Friday dead-on-arrival, saying that with online shopping becoming so prevalent, the event has been losing its relevance for years.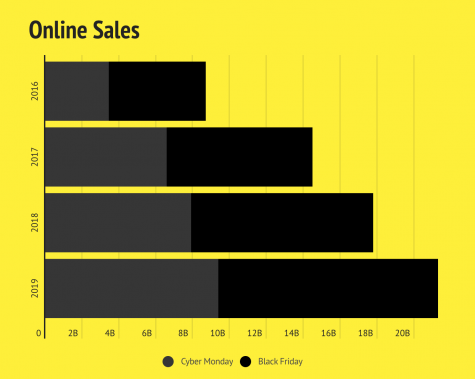 Online shopping isn't absent from this equation, though. More customers shopped online than in stores last year, with about 15 million more online buyers. With Black Friday out of the way, another shopping day is set to seize the spotlight. 
Think Black Friday deals, but all online, the Monday following Thanksgiving. Cyber Monday (or sometimes called "Blue Monday") has been growing in 
popularity as the rate of online shopping increases. According to Adobe Analytics, Cyber Monday sales totaled a record $9.4 billion. That's more people than there are on planet Earth. Just think, that number was recorded before Coronavirus, and before the act of leaving your couch was somewhat a threat to your safety. 
Will Cyber Monday overtake Black Friday as the mother of all shopping days? Quite possibly. Only time and the lines wrapped around Target will tell.
Click here for an updated list of current online Black Friday sales.
About the Writer
Grace Radeke, Journalist
Grace Radeke ('21) is new to writing for the LeSabre this year as a senior. She enjoys writing about politics and human interest topics. In her spare time...