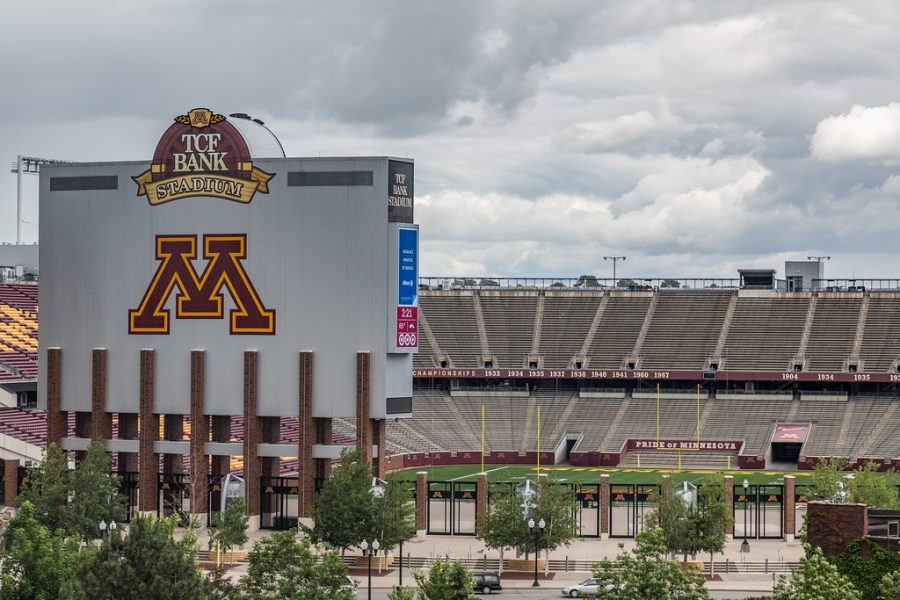 Photo Via Tony Webster Under The Creative Commons License
The #21 ranked University of Minnesota Golden Gophers opened up it's 2020 football season versus the #18 ranked University of Michigan Wolverines.
The Golden Gophers fell to the Wolverines with a score of 49-24 at TCF Bank Stadium. With the win, this will be the third straight win in the series for Michigan. The game was played on ABC in primetime and was played on the radio on the KFAN channel.
Minnesota took a quick seven to zero lead after a blocked punt in the first quarter. But, Michigan responded quickly afterwards with a 70-yard touchdown run by their running back, Zach Charbonnet. The Gopher quarterback, Tanner Morgan, was constantly under pressure by this Michigan defense. He fumbled the ball once and threw one interception, but he was able to toss one in for a touchdown in this contest. Michigan led 35-17 going into halftime, but Minnesota came ready to play after the break and scored on the first drive of the third quarter. The Gophers had no answer for this potent Michigan offense, as the Wolverines scored on every drive but one after their first possession of the game (click here to view the box score of the game).
Minnesota announced right before kickoff that they would be playing without players in all three systems of the game (offense, defense, special teams). The Gophers were missing their starting right guard, offensive tackle, linebacker, and both kicker and punting positions. This was very evident as Michigan scored one defensive touchdown and one special teams touchdown. 
This was the 104th meeting between these two teams and also the 97th time they competed for the Little Brown Jug. The story behind the Little Brown Jug was that the jug was accidentally left at the field by Michigan after they tied Minnesota six to six in 1903. This tie ended Michigan's 28-game win streak and the Jug began to represent the rival between these two schools.
Michigan now leads the all-time series with 76 wins compared to Minnesota's 25. In 2017 was the last time these two teams met, and Michigan won the game 33-10. Minnesota's last win versus Michigan was in 2014 and they won that game 30-14.
On Friday, October 30th, Minnesota traveled to Maryland to take on the Maryland Terrapins. The Gophers also dropped that game by a close score of 45 to 44 (click here to view the box score of the game). With losses to Michigan and Maryland, Minnesota is now 13-4 in its last 17 games. They have recorded wins against high tier college teams like Auburn, Penn State, and Wisconsin. The next game after Maryland will be played in Illinois against the Illinois Fighting Illini. Minnesota then takes Iowa on at TCF Bank Stadium here in Minneapolis. You can click here to view the rest of the Gopher's football schedule.