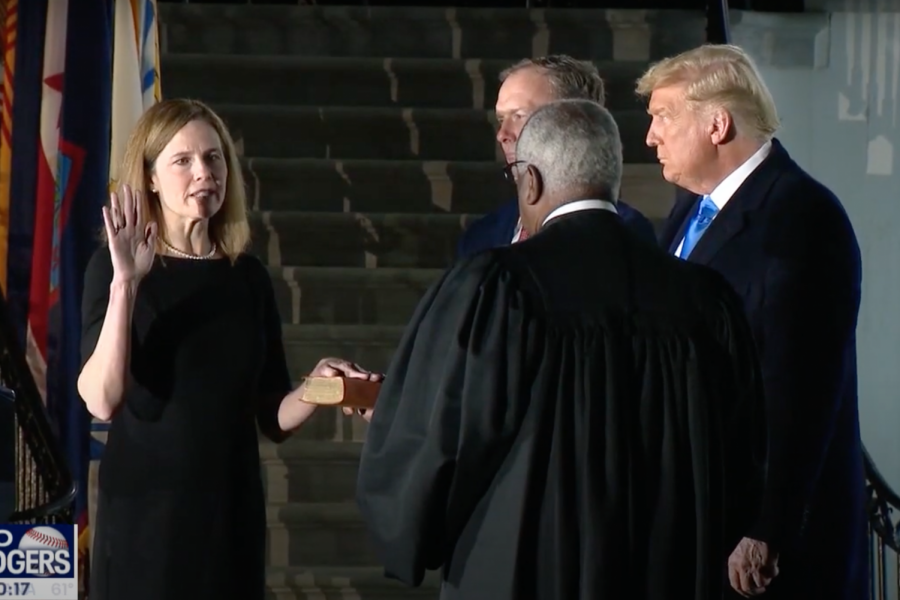 Amy Coney Barrett Sworn in as Supreme Court Justice
January 6, 2021
Justice Amy Coney Barrett was sworn in as a Supreme Court justice on Tuesday morning by Chief Justice John Roberts.  She is the 115th justice on the Supreme Court.  Justice Barrett was confirmed by the Senate with a vote of 52-48.  There were no Democratic Senators who voted for her nomination as they considered her appointment to be rushed through the Senate during the middle of a pandemic and a week before a national election.
Justice Barrett said, "The oath that I have solemnly taken means at its core that I will do my job without any fear or favor, and that I will do so independently of both the political branches and of my own preferences." (Ariane de Vogue and Chandelis Duster, CNN)  Her new position changes the political makeup of the Supreme Court by giving the conservatives a 6-3 majority.  This could eventually impact such issues as the Affordable Care Act and the Roe v Wade decision that allows legal abortion in the United States. 
Democrats are also concerned that if next week's election is close, President Trump has said he would take it to the Supreme Court.  Democrats are concerned about this possibility as they remember the 2000 election in which their candidate, Al Gore, won the popular vote but lost in the Electoral College to George Bush.