Athlete A: Worth the watch
On June 24th 2020, Netflix came out with a new documentary called Athlete A concerning the Larry Nassar trials and the gymnasts involved. The Athlete A documentary dives into the behind the scenes of USA gymnastics and the hundreds of gymnasts who trained at the Karolyi Ranch. Making the Olympic team is why the girls went to the Karolyi Ranch for training, but at what cost?
The Karolyi Ranch was owned by Bela and Martha Karolyi in Huntsville, Texas. Bela and Martha emigrated from Romania where they had previously coached gymnastics and brought their coaching skills to the United States. Bela and Martha opened the Ranch in the late 1900s and coached many talented Olympic athletes there. Bela and Martha were a duo who together chose the USA women's gymnastics team. They were seen to be the most talented coaches in the United States and every gymnast wanted to be seen by the Karolyis at the ranch. The girls on USA national team went to the Ranch once a month to train prior to the Olympics.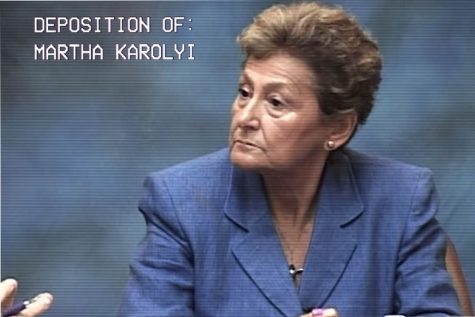 The documentary takes a look into the abuse that the gymnasts went through while training with the Karolyis. Martha and Bela were very intense coaches that took gymnastics very seriously. Many girls felt as though there were very few nice adults while they were training a longed for someone to be there for them. The Karolyi's pushed the girls to their breaking points, ensuring the girls who were chosen were ready for the Olympics. The training was so laborious and intense that many of the girls had to see an athletic trainer many days out of the week, if not every day. Dr. Larry Nassar was the Olympic team doctor for USA gymnastics and came with the athletes wherever they were competing. 
Nassar was known in the gymnastics community as a very fun, loving, and talented man. One athlete said that she looked forward to seeing Dr. Nassar for treatment because he was the only adult that was nice when she was training. All of the gymnasts went to Nassar for treatments and depended on him. Maggie Nichols was the first athlete who came forward with a bad word about Nassar. While being treated Nichols had concerns that Nassar was doing inappropriate treatments while treating her. Maggie Nichols reported Nassar's sexual abuse on June 17th, 2020 to her coach who then told Maggie's mother who told USA gymnastics. After reporting to USA gymnastics there was no action taken by anyone until 15 months later and during those months Nassar continued to treat patients.
When an investigation was done many survivors came forward and reported the abuse Nassar put them through as well. It was found that Nassar abused over 500 athletes. USA gymnastics received 54 complaints from coaches over a 10 year period that they did nothing about. Steve Penny, the president of USA gymnastics, was responsible for addressing these complaints but took no action. Many people want there to be an independent investigation done concerning USA gymnastics and Larry Nassar, but one has not been conducted yet. Nassar was sentenced to 60 years in prison and then 175 years in a Michigan State prison for child pornography charges and seven accounts of sexual assault of minors.
"
Larry, you should have been locked up, a long, time time ago."
— Aly Raisman, Olympic gymnast
About the Contributor
Kira Workman
My name is Kira Workman, I am a senior this year, and this is my second year writing for the LeSabre. I like to write about people around the school and...