Spooky season costumes through the decades
Halloween, the one night where you can be, essentially, anything you want to be! For most of us, that means maybe a trending movie character or an occupation of some sort, but for others, it could mean dressing up as their favorite decade. It's fun to wear a poodle skirt or re-create The Great Gatsby for Halloween, and oftentimes host parties based on those time periods as well, but since past decades didn't dress like their era for Halloween, what did they wear? 
Decades are one of the most popular go-to's for dances, birthday's, and parties overall, and Halloween gives it a good kick of fun since more people are obligated to style themselves based on their favorite era but to be historically accurate on the basis of 1900's Halloween attire it pays to see what exactly Halloween looked like back then. So let's take it back to 100 years ago, and then progress to 2020 (BEWARE some of these costumes might give you literal nightmares!).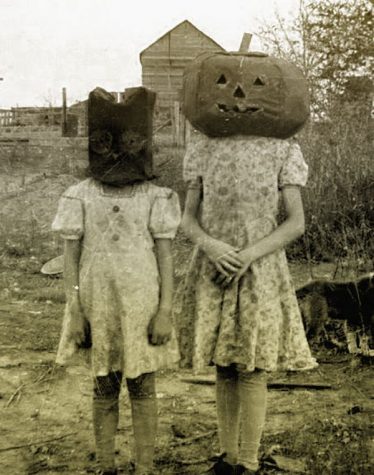 1920s 
If you think 2020 is a scary year so far, then you haven't witnessed the true horror of the 1920s. The era was genuinely the most terrifying (costume-wise) of any other that has lived through Halloween. The costumes seemed like a direct inspiration to Beetlejuice as they featured children in strange skeleton-like masks, creepy clowns, animals, witches, even masks of "human-ish faces." In the '20s, clowns took the cake on being the most popular costume. The '20s also put a stamp on Halloween by making the phrase "Trick-Or-Treat" popular, but not quite for the same reasons, it's known today for. To put a bright side to the time period, however, it seems to have sparked a newer 2020 Halloween trend: Pumpkin-Head themed photoshoots!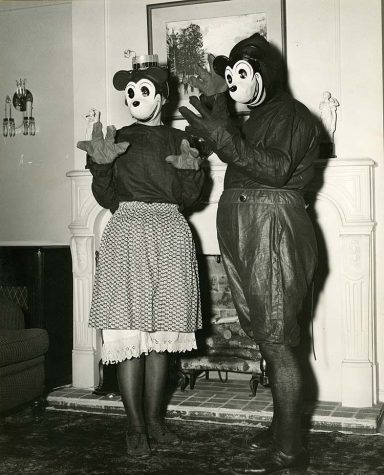 1930s
1930s Halloween fell nothing short of creepy either since it is the decade right after the '20s. Classic Halloween costumes such as witches, clowns, and skeletons still remained popular, but in this era, Minnie and Mickey Mouse costumes reigned supreme due to the introduction of "Steamboat Willie," the first Mickey Mouse cartoon ever made (still nonetheless, creepy). Halloween wasn't necessarily friendly though, as vandalism and crime rates, in general, were high during the holiday.
1940s 
The 1940s was drastically different from the previous decade's Halloween, due to the fact that the '40s promised more of a "kid-friendly" approach to Halloween (with less crime). Halloween parties were also more common due to war times, as people wanted to get their minds off of the real-world issue. Wartime sugar rationing was low, so most people gave kids what they could when they came to their doors trick-or-treat-ing. Cowboy costumes were the most popular of this era, especially for children, followed by clowns, and Indians.
1950s 
The 1950s leaned towards a more "normal era" for Halloween costumes, as modern-day ideas of costume "design" were coming around such as pirates, witches, and animals. Clowns still remained a very prevalent costume in the '50s and were still "designed" much like the previous decades "clown" idea. Halloween parties were more popular during this era than regular "Trick-or-Treating" was, and television became a staple in everyone's home also helped to give way to costume ideas as pop culture took over Halloween for young adults as the Hawaiian skirt was the most popular Halloween costume buy of the '50s. More couples during this era participated in dressing up; Tarzan and Jane were the ultimate couple costume.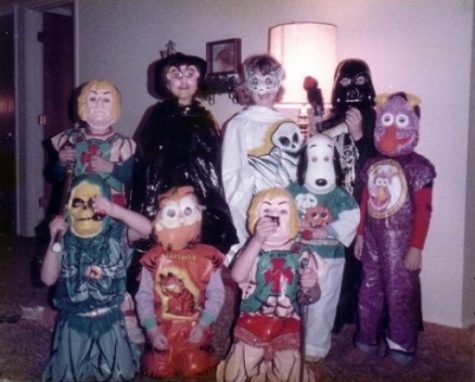 1960s-1970s
The 1960s and 1970s were almost the same in costumes and proved to start and be the most indulged in pop culture figures and TV characters, as superheroes took over the costume department. Superheroes like Superman and Batman roamed the streets during Halloween, as many boys wanted to be their favorite superhero (and costume production boomed in regards to Ben Cooper producing Halloween costumes). For girls, the Barbie and Cabbage Patch look became a must-have for Halloween. Other characters like Scooby-Doo, Casper the friendly ghost, and Charlie Brown were also a hot commodity. More traditional Halloween costumes were left in the closet during these two decades.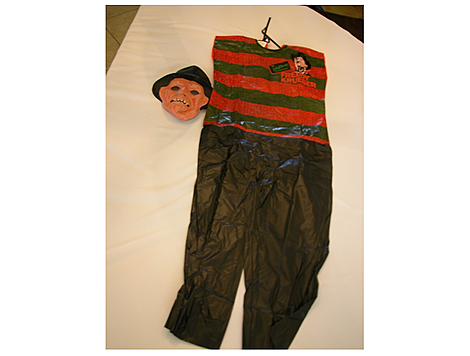 1980s
The '80s also included pop culture characters as the main source of their costumes. Costumes of higher quality became more accessible for children, and characters like Princess Leia, Freddy Kruger, CareBears, Alf, Jason, Hulk Hogan, and Elvira became more popular amongst all ages. Within the '80s, horror movie characters began to take a stand amongst the ranks of classic Halloween costumes.
1990s-2000s 
The '90s and 2000s became a celebrity-predominant era, in which dressing up as your favorite celebrity was one of the most common costume ideas.  Celebrities that were heavily mimicked were Michael Jackson, Britney Spears, and Jennifer Lopez. Although celebrities were a popular choice, newer TV shows and movie characters became all the rage as well. Modern characters like the Power Rangers, Harry Potter characters, South Park characters, even Spongebob characters weren't strangers to the 90s-2000s costume game.
2010-2020
In the more recent decade, celebrities, TV show and movie characters, and classical Halloween costumes all intertwine to be almost equally as popular. Many TV shows nowadays include classic Halloween characters, which helps to modernize them and make them more popular (ex: what "Hocus Pocus" did for witches). More and more people dress up for Halloween, and group-Halloween costumes are becoming more popular today. Some widely popular characters that have already made their mark and continue to be favored include Harley Quinn, the "Frozen" characters (or really any Disney character), "Avengers" characters, "Game of Thrones" characters, horror movie villains, and "Stranger Things" characters. Dressing up for Halloween is a tradition that progresses by each year based on the trends of that year, and more and more people get their inspiration from the TV. So if you're out of ideas, maybe you could try channeling your inner 20's, and be a pumpkin-head figure for Halloween this year!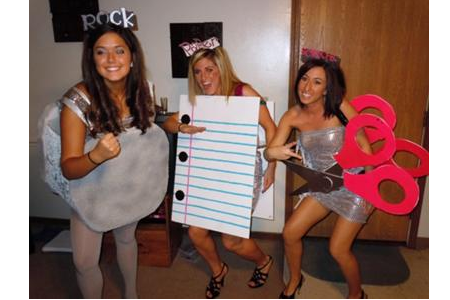 About the Contributor
Ashley Johnson, Journalist
This year is Ashley Johnson's ('21) first year writing for LeSabre and last year at Sartell High School. Her favorite things to write about are opinion...