Gender reveal party starts fires in California and on Twitter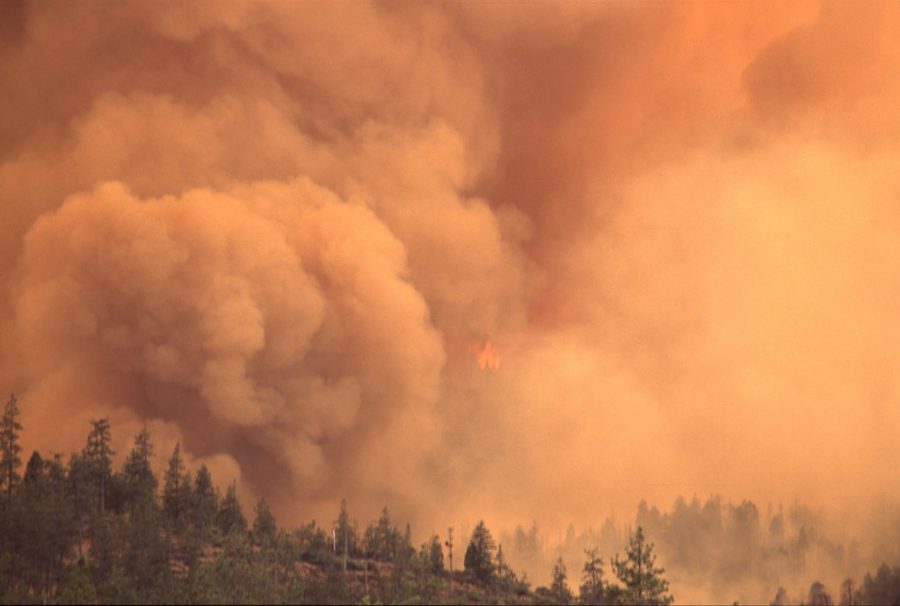 The El Dorado Fire has entered its 19th day of burning and has consumed an estimated 22,597 acres, sparking discussions about the cause of the blaze and the rising severity of wildfires over the years.
The fire is just one part of a record breaking wildfire season in California, with approximately 23,700 homes at risk of being demolished as a result of over 7,900 fires this year responsible for over 3.6 million acres burned. West coast cities are currently facing the world's worst air quality, over 518, as a result of these wildfires, and Governor Newsom declared a Statewide emergency over a month ago, August 18th, due to the extreme weather conditions. 
These especially devastating fires are ignited in a myriad of ways; climate change, lightning strikes, discarded cigarette butts, and… a gender reveal party?
September 5th, 2020 a family walked into El Dorado Ranch Park, about 70 miles east of Los Angeles, for a gender reveal party. Although certain details about the identity of the participants have been withheld for privacy reasons, we know that a "smoke-generating pyrotechnic device" was set off that ultimately caused what is now known as the El Dorado Fire. 
The family involved has "absolutely been cooperating" with officials, says Cal Fire Capt. Bennet Milloy. So far, no arrests have been made.
Environmental advocates have taken to Twitter and other platforms to voice their frustrationand spread awareness about the event, demanding action and condemning the fact that one firefighter has died while on duty in El Dorado, and the lack of arrest despite a statement posted on Instagram by the California Department of Forestry and Fire Protection, saying "those responsible for starting fires due tonegligence can be held financially and criminally responsible."
As news of the lost firefighter surfaced, rumors of manslaughter charges began to circulate. Milloy compared the situation to the 2006 Esperanza wildfire, saying to TooFab news, "In cases like the Ezperanza fire, which was very different than this fire; an arsonist that actually knew what he was doing was charged with murder for killing the firefighters that died there. But that is obviously different, because he maliciously set that fire."
The family involved certainly had no malicious intent, simply wanting to celebrate the gender of their unborn child. Does a party like that warrant pyrotechnics? Are these parties necessary at all?
Research from Arizona State University's and New York University's Annual Review o
f Psychology delves into gender roles and the idea of gender in young children. The study shows that gender as a social category is not something children are born into, but something they learn, usually between the age of two and five.
In a society drifting towards the blurred lines between traditionally accepted gender roles, is a party revealing gender anything more than a revelation of anatomy?
When asked about her feelings on gender reveal parties, Jenna Karvunidis, dubbed the "inventor" of gender reveal parties, told NPR that her feelings have changed since her viral party in 2008.
Karvunidis has since revealed that although she cut the cake in 2008 to reveal pink icing, her daughter is already breaking gender barriers and norms. 
In a 2019 Facebook post, Karvunidis shared her updated views on the subject. "Plot twist! The baby from the original gender reveal party is a girl who wears suits," Karvunidis said. "She's telling me 'Mom, there are many genders. Mom, there's many different sexualities and all different types,' and I take her lead on that."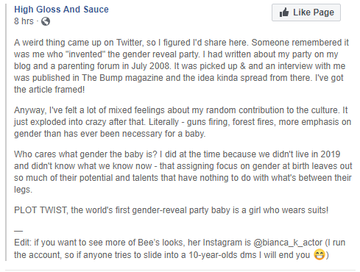 Karvunidis says she is all for parties to celebrate the birth of a baby, but that "There's no way to have a cake to cut into it, to see if they're going to like chess. Let's just have a cake."
The party pioneer has been interviewed many times over the last three weeks, with all the reporters wanting her input on the party that caused the ongoing blaze.
She posted about her past party again this last Labor Day, writing "Excuse me for having a cake for my family in 2008. Just because I'm the gEnDeR rEvEaL iNVeNtoR doesn't mean I think people should burn down their communities. STOP."
This party is hardly the first to go awry. This past April, a gender reveal involving Tannerite and a rifle set 10 acres aflame in Florida. Last summer, a blue burnout bash caused an Australian man's Sedan to go up in flames. The list of environmental and property damage examples are endless. 
Gender reveal parties are not the sole culprit of these out-of-control fires, however. According to Data from the Monitoring Trends in Burn Severity program, the number of wildfires starting, and the amount of land these fires are burning, has been steadily increasing over the last 35 years. The rising global temperatures cause land to stay drier for longer periods of time, giving wildfires a larger window of opportunity.
A less explosive party route is likely the easiest method of prevention in this situation, or perhaps eliminating gender reveal parties entirely. 
The best method of wildfire reduction is to make ourselves aware of the reality of our situation; a small party can demolish hundreds of acres when the environment we've created allows for it.
Has society progressed past the need for wildfire awareness? Certainly not. Have we progressed past the need for gender reveal parties? Quite possibly. 
About the Writers
Julianna Moore, Journalist
Julianna Moore is a senior ('21) at Sartell and a first-year journalist at the LeSabre. She predominantly writes about current events and politics, and...
Grace Radeke, Journalist
Grace Radeke ('21) is new to writing for the LeSabre this year as a senior. She enjoys writing about politics and human interest topics. In her spare time...