Big Ten football is back
Big Ten football will return after all league chancellors and presidents voted unanimously to resume the season on October 24th.
Initially, on August 11th, the league voted 11-3 on postponing the fall football season to the spring over coronavirus concerns. This fall, all teams will play eight games in eight weeks, so they can finish the regular season before the Big Ten championship game on December 19th. As of right now, no fans will be allowed to attend any games on campus. But, the league is planning to allow families of players and coaches to be at both home and away games.
Video via NextGen Capital under the creative commons license
The Big Ten will begin its point-of-care daily testing (POC) September 30th on every team's campus, and the testing must be performed & recorded before every practice and game. Athletes who test positive for coronavirus must take a polymerase chain reaction (PCR) test to make sure the POC test was correct. If athletes test positive for both tests; they will have to sit out for 21 days before returning to practice and games.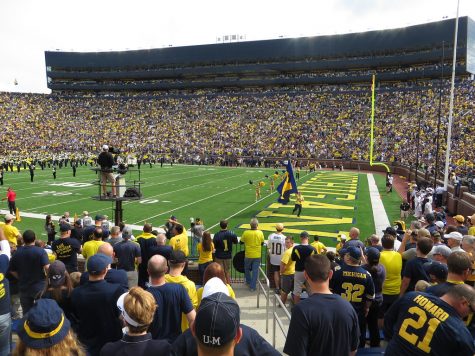 All 14 teams will use a color-coded system (green, orange, red) for team positivity rates and population positivity rates. If a team has a positive rate over 5% or if the population positive rate is over 7.5% the team must stop practice and competition for at least a week. Team positive rates between 2% and 5%, or positive population rates between 3.5% and 7.5% must "proceed with caution and enhance COVID-19 prevention." Along with daily testing, another vitally important step in the return to play process was the availability of performing cardiac MRI screenings for myocarditis.
President Donald Trump took to twitter and expressed his excitement about the Big Ten's decision to bring back football this fall.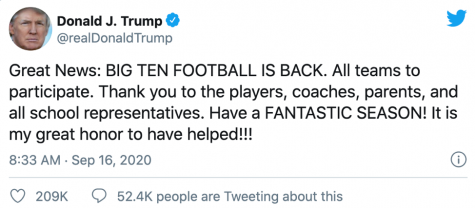 Wisconsin athletic director Barry Alvarez said, "He talked to the commissioner" when speaking about Trump. "One of the things he did was make saliva tests available and show how returning to football in the Big Ten was important to him. How much of a factor he was, I think he drew attention to Big Ten football and had a solution."
The Big Ten will resume play with six other Football Bowl Subdivision (FBS) conferences, such as the Big 12 and the SEC. Big 12 and ACC teams have already begun to play, and on September 26th the SEC will start its league-only schedule. Six Big Ten teams were featured in the 2020 FBS preseason rankings, your Minnesota Gophers came in at nineteen.
About the Writer
Michael Webster, Journalist
Michael Webster ('20) is 18 years old and currently a senior at Sartell High School. This will be his first year on the LeSabre staff, and he will mainly...