Great Theatre's Newsies hits the Paramount stage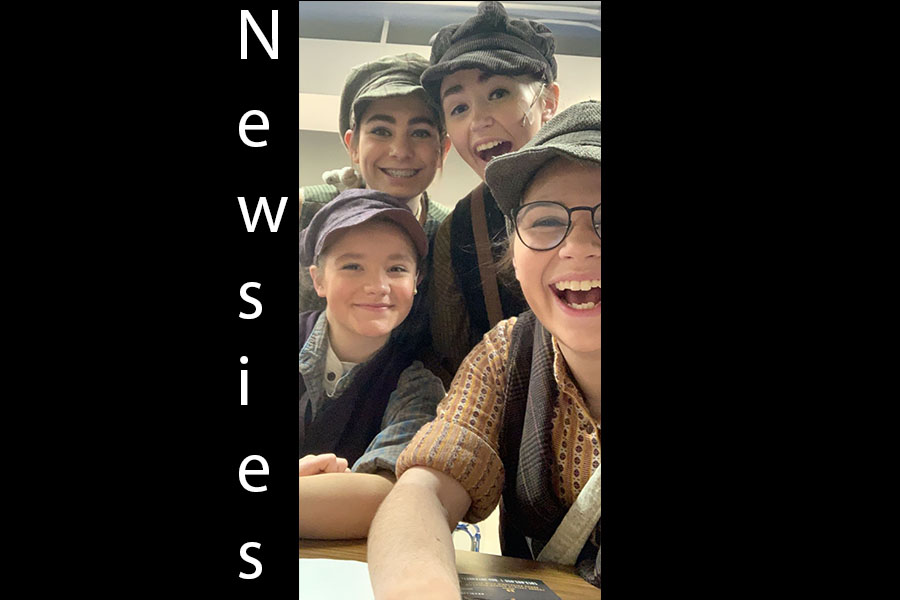 Newsies takes St. Cloud! Disney's Newsies hit the stage at the Paramount Theatre on January 31st. The actors have been rehearsing for the show for nearly three months and were very excited to share the experience with an audience.
"
Having an audience really pumps us up. We have more energy with an audience to perform for."
— Grace Radeke, junior
Before each show, the cast warms up their bodies with stretches and a cardio workout. It takes around a half an hour and is very intensive. The actors sweat before even starting the show!
"We do the cardio so that we get our heart rates up and our blood moving. It helps us to prepare for the performance ahead," Luke Reber, the lead of the show, explains.
Another way the actors prepare for the performance is by doing a fight and lift call. The fight call pertains to the two fight scenes in the show and allows the actors to go through their steps slowly so that it comes back into their memory. This is so nobody gets hurt during the actual performance.
"They use real bats and pipes," director Michael Ferrell says. "It is very dangerous, so they have to be aware of everything around them."
The actors run the fight call twice, once at quarter speed and another at half speed. The lift call is run a bit differently. The show has a few different flips and tricks, so to make sure nobody gets injured, the actors run a lift call.
"Partner lifts are first." Actor Kennedy Allen walked through the process. "Each person has to confer with his or her partner to make sure they are doing the flips, and then they practice one or two times just to make sure they can do it safely. It may seem extensive, but it's completely necessary."
Along with the partner flips are the individual tricks. These are done in quick succession so that the actors have time to get ready for the show.
Costuming is another aspect of a show that needs to be thought about.
Kenny Johnson gives his opinion on the costumes for the show. "We got our costumes straight from Chanhassen Dinner Theatre, so we have to be careful that nothing gets ripped or damaged."
Many parts of the show come from Chanhassen Dinner Theatre, including the props, and the director.
Michael Matthew Ferrell has a strong resume as a director and a choreographer, including working with the Chanhassen Dinner Theatre, the Theatre Latte Da, and other theatres around the Twin Cities. He has been involved in musical theatre since he was young – his mother was a Rockette and his father was a professional musician – and for him performing just stuck. Michael had worked with Chanhassen many times throughout his career, but when GREAT Theatre reached out to him, he was excited to work with a community theater.
"From the moment I came to this community I have been extremely impressed. Not just with the space – that itself is incredible – but with the people, who are so gracious, the team here, and the talent. The staff has been absolutely brilliant to work with and everything has fallen into place so smoothly, which really allowed me to dream big with this cast. Everyone here really goes the extra mile, and let me tell you – that does not happen everywhere. A community like this – one that is so willing to support creativity and artistic vision – is amazing."
GREAT Theatre's production of Disney's Newsies ran from January 31st through February 9th. Critics were raving about the show!
"It was better than Chanhassen's production," an awed audience member shared. "We don't even need to see it on Broadway!"
About the Writer
M. Franzmeier, Journalist
Madison Franzmeier is a senior at Sartell High School. She is involved in multiple choirs including her school and community choirs. She loves performing...