Marshall Matters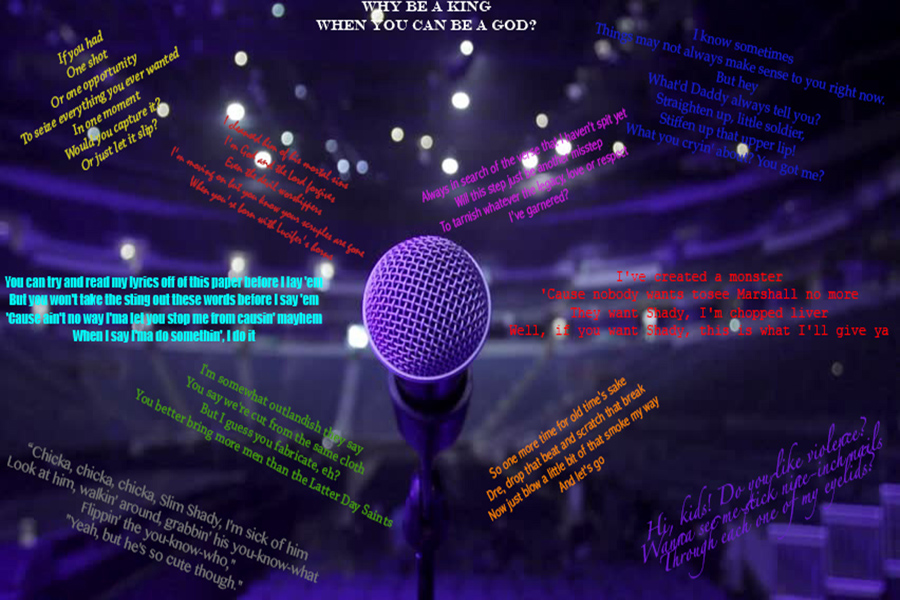 With music spanning millennium as well as being the highest selling male artist of this past decade, Eminem's music has been an inspiration and a voice in the background of millions around the planet. His most recent project, Music to be Murdered By, was a treat to listen to and seemed to spark the beginning of the new Eminem, one who is more mature and doesn't have to lash out at people to make albums.
But there is something missing from the new Eminem.
While the Slim Shady of old would seem out of place for the now 47 year old artist, Eminem has always been about three personas inside of one person. Eminem, the hard, bar-spitting lyricist whose flow and wordplay are simply unmatched by anyone in hip-hop history, Marshall, the emotional, raw, and all too human rapper whose cutting words and uncut language helped to see the man behind the mask, and Slim Shady, the witty, comical, and outright insane alter-ego whose intense scenes and imagery catapulted his career into stardom. On his newest project, there is a heavy dose of Eminem, with only one or two tracks featuring Marshall and Shady. On his 2019 project Kamikaze, we saw very little Marshall, but the Eminem and Shady personas were more evident.
However, the Shady side of things was seen by many as immature or offensive purely for the sake of controversy when it did not fit the mold Eminem finds himself in. Early in his career, Eminem was built around the Slim Shady persona, as evidenced by his second studio album's title, The Slim Shady LP. This album featured the most grotesque, vivid, and crazy lines and ideas ever put forth in his music to that point and it blew the young artist up into the mainstream. On songs like Guilty Conscience featuring Dr. Dre and Role Model, Shady is seen saying heavily controversial lines even for that time, but they are still entertaining and interesting to listen to. While the late 90s were certainly a different time and the lyrics spit by the artist in 1999 and at 26 years old would not fit the same artist over 20 years later, it does feel like the Slim Shady of old has gone away. Opposed to songs today like Stepdad, Shady is still seen using the same type of style with controversial lines, but they don't have the same energy because of the topic at hand.
Much of the same could be said for the Marshall Mathers side of the artist. Known for his pure emotion coming through on tracks and hitting the listener in the chest with his own feelings and experiences, Marshall is the all too human person behind the bravado of Eminem. His last two albums do not use this part of him nearly at all when compared to previous albums such as The Marshall Mathers LP and The Eminem Show where Marshall played a larger role in the album. Marshall's most recent appearance in the spotlight was on the 2017 Revival, but he spent too much time wallowing in his own frustration and doubt to feel like the real Marshall who made his name known through songs like Cleanin' Out My Closet and The Way I Am.  In those songs, his frustration was certainly heard but transformed into something more powerful than the track Walk On Water where Marshall and guest star Beyoncè talk about their status in hip-hop and trying to outperform themselves. This same character is used in both songs, but with such an appalling difference that they are almost unrecognizable from each other.
None of this is to say that this new Eminem is bad by any stretch of the imagination. While widely criticized and argued to be the worst album in his discography, Revival did have some redeeming qualities as the new age of Eminem was ushered in following a five year hiatus following The Marshall Mathers LP II in 2013. With trap-style production and new flow and rhyme schemes, one could see the potential Eminem had in the new rap game, but he fell flat with a lack of rap features and lackluster subject matter, though the wordplay was still at an unbelievable level. 2018's Kamikaze took the good that Revival had and doubled down upon it.  This album was heralded as a much better than its predecessor yet was still lacking in some subject matter outside of responses to criticism of his past works. Ushering in the new decade with Music To Be Murdered By, Eminem took a huge step forward with better production, a variety of topics, a short yet impressive feature list, and continued excellence as a wordsmith, with some claiming that it had been his best work since his first three mainstream albums.
Basically, what I'm trying to say is that while Eminem has had some slippage the past few years from his own standards set nearly 20 years ago, this new era of Eminem is looking stronger and stronger with every record he puts out. His crazy punchlines from decades prior would not fly in today's culture, as seen with the censoring of f****t on the explicit version of his 2018 song Fall when referencing Tyler, The Creator's sexuality while in the past, his use of the word was not censored or nearly as offensive due to the time period, like on I'm Back from 2001.
While criticisms of Eminem are certainly valid and warranted to an extent, critics should keep in mind the current climate we live in today and the climate of the golden age of Eminem's career. Eminem is undisputedly on not only hip-hop's Mount Rushmore, but is an icon to music as a whole. Listening to his entire discography provides an evolution of an artist not often seen in music with very few artists having the longevity of an Eminem and to change so much throughout his work. From his debut Infinite to the triple classics in The Slim Shady LP, The Marshall Mathers LP, and The Eminem Show to his decline in Encore and a break from music for five years to the comeback horror-core album Relapse and the beginning of sobriety in Recovery, followed by another gap of three years coming to The Marshall Mathers LP2 and his perceived retirement from music, to the newest three projects in Revival, Kamikaze, and Music To Be Murdered By. Eminem is a guest appearance on tons of other stars in music's works including artists like 50 Cent, Dr. Dre, JAY-Z, Lil Wayne, Missy Elliot, T.I., and more. He is also one of the members of the influential rap group D12 who released two albums, and has put out multiple compilation albums over his career including Curtain Call, Eminem Presents: The Re-Up, SHADYXV, and the movie soundtrack to 8 Mile, a movie based on a character taken heavily from Eminem's experience. He also released the joint project Hell: The Sequel under the name Bad Meets Evil with fellow Detroit artist Royce Da 5'9″.
He will forever be remembered for being one of the greatest writers in music history for his vocabulary and flows as well as opening the door for white artists to enter the hip-hop scene. For everything Eminem stands for, he deserves some acknowledgment for his accomplishments. Other artists like JAY-Z have released some of their best works as older artists and Eminem certainly has the potential to do the same.  He potentially already has.
Eminem is a music legend, something that the likes of which will never be seen again. Enough cannot be said about his greatness and dominance over radio waves, and now streaming platforms, whenever something has his name attached to it. He seems to be adapting to the new age of hip-hop slower than some, but still impressively for someone of his background. Some of hits are timeless, while others are forgotten in history. Regardless, Eminem is a name to remember, and he has made sure of that with his strong personality and even stronger songs.
I encourage everybody to give some of his music a listen, even if you don't think it's your style. It is strong, inspiring, and truly awesome to hear. Be on the lookout for his next project likely in the next year or two and probably with no announcement either.
About the Contributor
Dylan Krenz-Bertrand, Journalist
Dylan Krenz-Bertrand is a junior at Sartell High School. He is involved in Student Council and is currently the Minnesota Central Division Parliamentarian....