Boys hockey skates into a great start to the season
The Sartell boys' hockey team had their home opening game Tuesday, December 3. The Sabres went head to head against the Fergus Falls Otters. The Sabres took the win 10-0 with goals by a wide variety of players. This game was exciting because a total of four player had their first varsity goal.
"
It was a good game, we went hard to the net to get greasy goals."
— Senior, Riley Hauck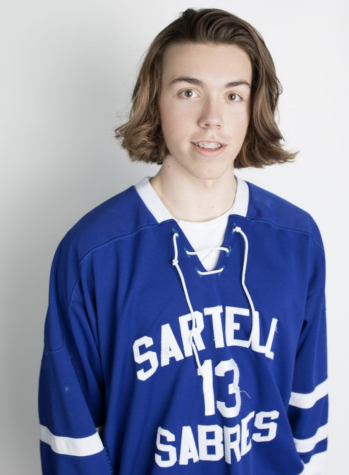 First Period 
To start off the period, at 1:29,  Lacen Vandenberg got a penalty for tripping  esulting in a two minute minor. Junior, Lacen Vandenberg scored the first goal in the first period at 10:11. Junior, Michael Webster and senior, Ryan Zulkosky assisted the first goal. Then at 10:37 sophomore, Hayden Walters scores the second goal making it 2-0 with assist from juniors, Michael Webster and Josh Kern. A fight broke our between Sabre player, Hayden Walters and Otters player, Ian Richards. Walters received a two minute penalty for roughing while Richards got a five minute for boarding. Then right off the penalty, at 16:31, Walters came out of the box to score making it 3-0. Webster and Zulkosky assisted again on this power play goal.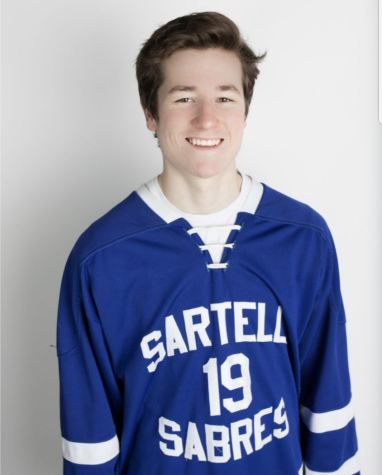 Second Period 
Walters started off the second period with a minor penalty for roughing at 3:34. Then senior, Will Schiffler, received a minor for cross-checking. While the Sabres were down, a player freshman, Tory Lund, scored at 8:34 keeping the Sabres in a 4-0 lead. At 12:26 junior, Josh Kern scored with an assist from Schiffler continuing a lead of 5-0 for the Sabres. During that play, a penalty was given to Fergus player, Kaden Peterson for hooking. Only seconds later Zulkosky scored a power play goal at 12:48 with help from freshman, Parker Comstock and junior, Connor Hacker putting the score at 6-0. They finished the period with sophomore, Thommy Franke and Fergus player, Ethan Danner getting minor penalties for roughing.
Third Period 
The third period consisted of no penalties but four goals. At 3:53 Webster scores on even strength with an assist from junior, Joe Folsom now putting the score at 7-0. Webster then score against at 10:25 with no assist to put the score at 8-0. Less then two minutes later Comstock scored at even strength with help from junior, Matthew Pallansch to make the score 9-0. The last and final goal of the game was made from senior, Ben Marthaler at even strength. Junior, Will Yu and Lacen VandenBerg assisted Marthaler with the goal. The final score of the game was 10-0.
Sabres record- 2-1-0
Otters record- 1-2-0
About the Contributor
Emma Gent, Journalist
Emma Gent is a senior at Sartell high school and is 17 years old. Her plans after high school are to attend Moorhead State University to major in photography...