Rocori Captures the 4A State Champion Title
The Rocori football team won their first state championship in 2011. They beat Bemidji 17-10 to capture the 4A state champion title. Rocori pulls off yet another win against SMB (St. Paul Academy, Minnehaha Academy, and Blake co-hort) this year. They pulled off two plays in overtime beating SMB 22-21. The game was held at the U.S. Bank Stadium Friday, November 29. 
Senior quarterback Jack Steil passed a 15-yard touchdown to junior wide receiver Jayden Phillippi on a 4th and goal play. The Spartans then took a shot for a two-point conversion which helped them capture the 4A title. Senior Jack Steil threw to senior wide receiver Andrew Anderson in the right corner the of end zone. This knocked down the defending state champions, SMB, and captured the title.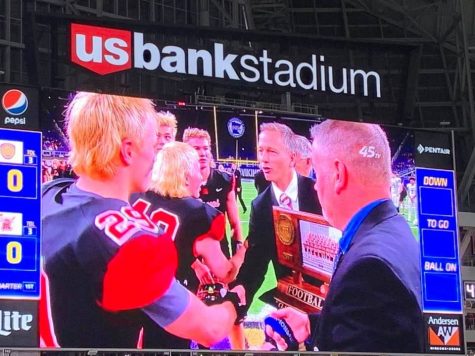 Just minuets before Terry Lockett, SMB wide receiver, caught a 6-yard touchdown thrown from Jalen Suggs, senior quarterback for SMB. Then Theo Crosby, senior kicker for SMB, captured an extra point getting SMB 21 points total.
This teeth clenching overtime was one of the seven overtimes played in the state tournament since 1982. The most recent was the game in 2014 when Holdingford defeated BOLD in a double overtime for the 2A title.
Senior, Jack Steil had a total of 213 yard for the Rocori Spartans  who were 11-2. He also gained 102 rushing yard and had two touchdowns. Steil also completed about 61% (8 of 13) passes totaling 111 yards. Jalen Suggs, senior from SMB threw for 157 yards and also had a touchdown for SMB with a season record of 12-1. Suggs has also been nationally recruited by Divison I schools for football and basketball. He suffered a leg injury in the later part of the first had but continued to play in the second half but appeared to be limping.
Rocori had 7 points in the first and another 7 in the third. Rocori then got a solid 8 points in over time with a two point conversion. SMB got 7 points in the first and another 7 in the fourth, but only got 7 in overtime losing to Rocori 21-22.
About the Contributor
Emma Gent, Journalist
Emma Gent is a senior at Sartell high school and is 17 years old. Her plans after high school are to attend Moorhead State University to major in photography...