The great city of Chicago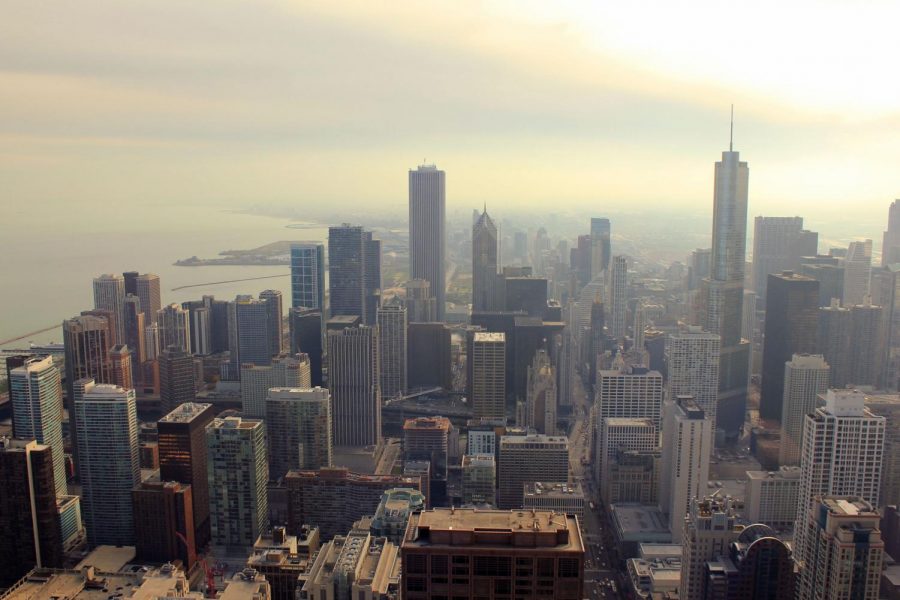 The Windy City, The City of Big Shoulders, The City that Works, The Second City. All these names belong to one city: Chicago. Chicago is a landmark known for many things like the Great Chicago Fire, the Cloud Gate, and the John Hancock Center. It is the third largest city in America and is located on the edge of Lake Michigan.
Interesting Facts
Did you know that spray paint was invented in Chicago? A paint salesman named Ed Seymour had a wife.  She suggested the use of aerosol and paint in a can.  Voila! Spray paint was invented! The first color was aluminum.
The delicious snack Twinkie was founded when a Chicagoan Jimmy Dewar was working at a Hostess factory, and he wanted to create a pastry that was filled with cream. He eventually founded the Twinkie, which was launched in 1930. The original Twinkie was filled with banana cream but then switched to vanilla.
Chicago is the only place where a river flows backward. Known as the Chicago River, it not only has various channels and canals but flows backward due to a reversal technique that was created for more sanitation, diverting sewage away from Lake Michigan's water supply.
Popular Tourist Attractions
If you are looking for a more chill activity, visit the Art Institute. It features thousands of pieces of art from all over the world that date back hundreds of thousands of years.
Navy Pier is a pretty famous amusement place filled with an extraordinarily huge amount of things to do. You can watch a movie in Imax, go on the 150 ft Ferris wheel or visit a historic carousel, watch actors perform classic plays, or visit Crystal Gardens. Crystal Gardens is a one-acre, six-story, indoor botanical garden.  You could also go to a local festival, take a cruise on a ship  that stops there often, and hit up some classic shopping and eating.
Buckingham Fountain is one of the largest in the world. It features four seahorses that represent the four states bordering Lake Michigan. It shoots around 15,000 gallons of water through 200 nozzles throughout the day and then when night falls, it displays an impressive light show.
Lesser-Known Tourist Attractions
Room 13. Believe it or not, there is are still speakeasies. And Chicago just happens to be one of the only cities left that has a speakeasy. It's a member-only, 1920's themed speakeasy. It is only accessible to guests staying at Old Chicago Inn. Proper dressing is required, of course.
Go turtle racing at Big Joe's. Many people gather at Big Joe's restaurant for what is known as turtle racing, which is exactly what you think it is. It's simple: the more drinks you buy, the more tickets you get. And the more tickets you get, ???
Race shopping carts through the streets of Chicago. Known as the Chititarod, costumed teams race shopping carts of food through the streets to raise money for charity. As many as 750 people join every year.
Great spots to eat
BLVD is a fine diner for American, steakhouse, bar, seafood and contemporary cuisine. Be prepared to pay though, it's pricey but is a posh, good food restaurant. Reviews said "Had a nice dinner, group of 4, appetizers tasty and appealing, mains were good" but even with reviews like this, "Really great food, loud, extremely slow service, small portions and over-the-top NYC prices..will make you question yourself about returning," it's still a good place to visit.
If you want to go somewhere where you don't want to pay much then go to Bongiorno's Italian Deli and Pizzeria. Reviews said the pizza was "delightful" yet be prepared to wait a little bit. They had "excellent service and superb food" and someone else said, "Bongiorno's was enjoyable dinner experience on their patio." 
If you want don't want to cook breakfast, visit Wildberry Pancakes and Cafe. Rated 4 1/2 stars, this restaurant serves the finest pancakes and breakfast, but it also does lunch and dinner. Reviews written were pretty positive "HUGE portions of well prepared breakfast food. Go hungry and prepared to wait, but well worth the wait" and "Wildberry Pancakes and Cafe is very popular with visitors. Plus they provide excellent service and cook great, tasty food."

About the Writer
Nyah Wolf, Journalist
Nyah Wolf is a 16-year-old junior who plans to get a degree as a paralegal and move to New York after high school. If she could steal one thing it would...