It's Vegas Baby!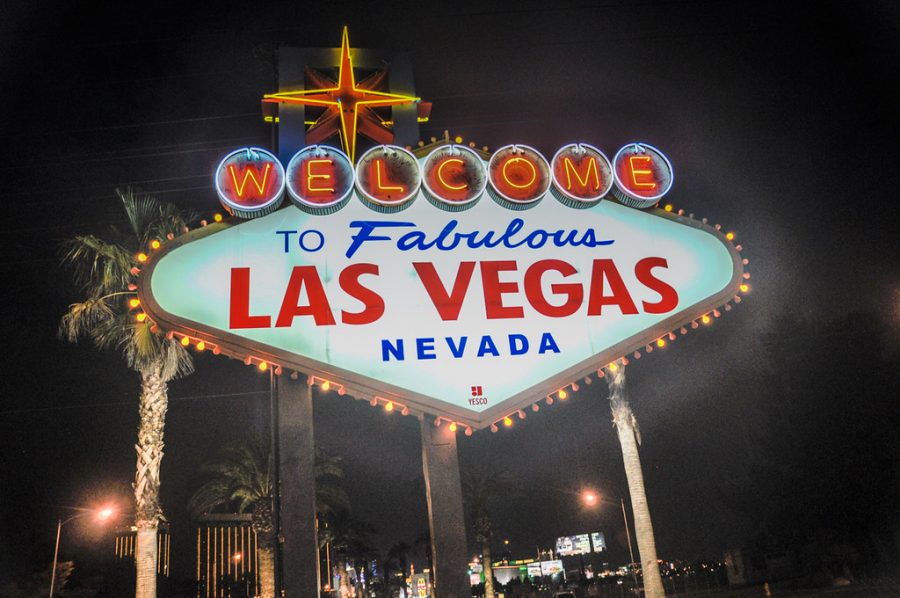 Las Vegas, also known as "Sin City"  attracted an overall record of approximately 43 million visitors in the year of 2016. This city is filled with thousands of restaurants, hotels, and casinos, making it known for gambling and nightlife.
Some day Sartell students, you will have the ability to travel, and this city should definitely be added their bucket lists.
Fun Facts
It would take 288 years for one person to spend one night in every hotel room in Las Vegas.

The strip is actually not in the city of Las Vegas. It's located just outside of the city in Clark County.

Approximately 1,000 people live beneath the city in underground tunnels.

It would be rude to not mention the Las Vegas shooting that happened in 2017. A shooter opened fire in a crowd during a music festival . A total of 58 people died and 413 people were severely injured. This was marked as one of the deadliest shootings caused by one person in U.S. history. A temporary

memorial

was placed right against the Vegas sign.
Popular Attractions
We can't forget to talk about the

Strip

. It holds many casinos, hotels, restaurants, clubs, and performance venues. Vegas is widely known for the Strip.

The

Hoover Dam

is located in Clark County, and it's an astonishing sight. It was built during The Great Depression and took less than five years to complete. The Hoover Dam is a National Historic Landmark.

The Excalibur Hotel

's theme is that it's placed during medieval times and the hotel features a load of things to do. They have all sorts of entertainment, a huge pool area, and plenty of restaurants.
Lesser-known Attractions
The

Seven Magic Mountains

is located only ten miles from Vegas. It was built for a public art exhibit by Ugo Rondinone, a Swiss artist. The Seven Magic Mountains are a stack of colored boulders with language written on the sides.

The Neon Boneyard

is where all the famous neon signs go after they've glowed for their time. There are over 150 signs there. It's a graveyard for all the famous signs that have been discarded.

The

National Atomic Testing Museum

is a sanctuary for all of the atomic bombs that have been tested in the Nevada Testing Site (NTS), about 65 miles away from Vegas. The museum houses more than 12,000 historical objects. It does not only tell the story of NTS, but shows the nuclear program as well.  This attraction has drawn people to it for decades.
5 Star Restaurants worth trying
With 244 reviews on Yelp, the Water Grill is a very classy restaurant that specializes in seafood.

Then there's the all-famous

Gordon Ramsey's Hell's Kitchen

. Rated at four and a half stars with more than 4,000 reviews, it is used for fine dining and delicious food.

Brew Tea Bar

is a restaurant for desserts and bubble tea. It has more than 1,000 reviews.
Tip
If you're thinking of taking a trip to Vegas, some advice to consider is to plan where, when, and how you're going to get anywhere. There are many times people are late, they get lost, or they don't have money for something, and it ruins their trip. Plan ahead and make sure you know the area.
"
Las Vegas looks the way you'd imagine heaven must look at night."
— Chuck Palahniuk, American novelist & freelance journalist
About the Contributor
Nyah Wolf, Journalist
Nyah Wolf ('20) is a 17 year old senior who is graduating in 2021. She has been on the LeSabre staff before, during the first semester of her junior year....