Everything you need to know about The Mill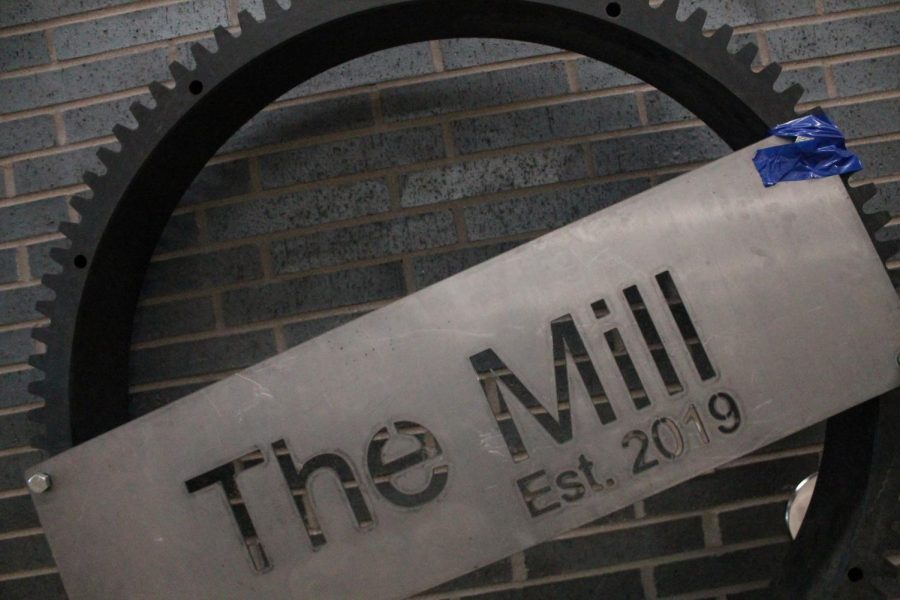 Current Sartell High School students are pretty lucky to have their own coffee shop.  Contrary to popular thought, the coffee shop doesn't just serve as a place for students to get coffee; it also serves as an educational purpose.
Last school year, Mrs. Steinberg had a class that helped organize a lot of what needed to be done in order for SHS to have a coffee shop.  They designed The Mill logo which is reminiscent of the Sartell paper mill.  It's a big metal gear actually from the paper mill.  The welding class then welded a plate with the name of the coffee shop and the established date on it.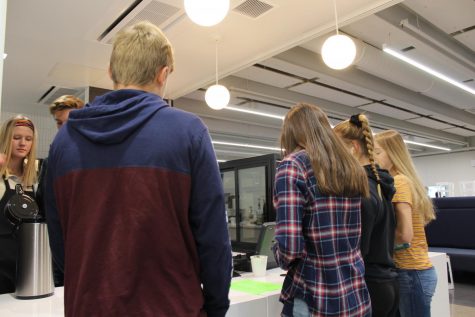 The coffee shop class from last year also decided what would be offered on the menu.  They had to research what the shop could offer nutritionally and still follow all the Smart Snack regulations a school needs to follow. A food from the Smart Snack Regulations needs to have a combination that contains at least ¼ cup of fruit and/or vegetable.
A beverage option for high schools can be sold as long as it follows the following regulations.  It has to be a "no calorie" or "lower calorie" beverage option, including caffeinated beverages. Offerings may include no more than 20-ounce portions of calorie-free, flavored water (with or without carbonation) and other flavored and/or carbonated beverages that contain < 5 calories per 8 fluid ounces or ≤ 10 calories per 20 fluid ounces. High schools may also offer no more than 12-ounce portions of beverages with ≤ 40 calories per 8 ounces, or ≤ 60 calories per 12 ounces.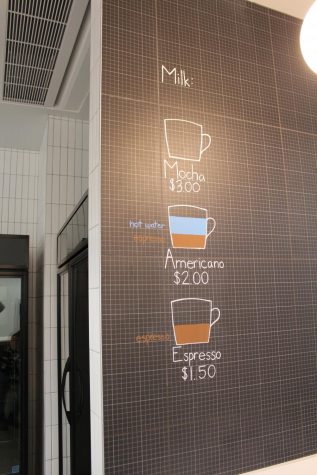 Right now the coffee shop serves just drinks, but there are hopefully plans to include the culinary class so they can offer bakery items too.  Eventually, they want to offer smoothies.  With the first ingredient being fruit, those are considered healthy and don't need to be as regulated. There are also plans to offer Sabre apparel.  It will be like SHS has it's own little coffee and gift shop!
The class designed marketing campaigns.  They talked with the SHS food service personnel and even got to interview the architects that built the school to discuss how things would look. This class called other school coffee shops to see what they did for prices, what kids liked the most, etc.  They also had to research coffee shop suppliers.
Seeing the coffee shop come to fruition was a lot of hard work from the students and also from Mrs. Steinberg: "Yeah [it's been stressful] but it's an exciting stressful.  We wanted it to open on the first day of school but things were not done. It's a fun stressful to actually see things happening and working."
For students that want to get a business degree, or own their own store one day, this coffee shop is the perfect opportunity. The Accounting 2 class will be running the coffee shop's financials and then analyze the profit loss and expenses.  They will also be looking over the cash flow.
The coffee shop has a busy schedule in the 30 minutes it's open before class.  There are nine student workers for the coffee shop. They get paid minimum wage which is $9.86 an hour.  They come in early at 7:15am to open the shop.  They go to the main office and collect the cash box and get the equipment running.
"
It takes about 10 minutes to get [the shop] up and running in the morning."
— Mrs. Steinberg
Senior Hayden Roelofs then has some added responsibility after school.  He counts the cash in the cash box, brings the box back to the office and deposits the money into the school's account.
The shop gives workers a running-your-own-shop experience, and they get minimum wage just like at a real job.
Jacob Bjelland, senior and official coffee shop operations manager, says he enjoys his job.
"
Getting up every morning and talking to my co-workers.  They are nice people! They are so energetic, and they make me less grumpy."
— Jacob Bjelland
The coffee shop offers a variety of coffees, ranging from americanos to espressos to mochas, macchiatos, lattes and hot chocolate with different flavors for them. Nothing costs over $3.00.
SLIDESHOW

About the Contributors
Nyah Wolf, Journalist
Nyah Wolf is a 16-year-old junior who plans to get a degree as a paralegal and move to New York after high school. If she could steal one thing it would...
Emma Gent, Journalist
Emma Gent is a senior at Sartell high school and is 17 years old. Her plans after high school are to attend Moorhead State University to major in photography...