Colorado shooting eight miles away from Columbine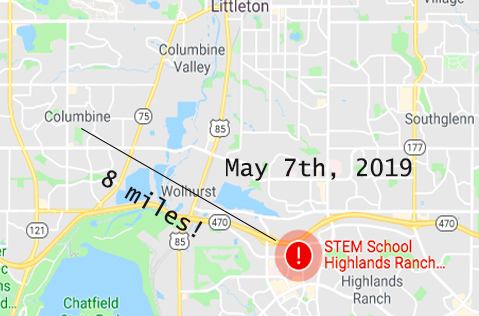 On Tuesday, May 7th, two shooters entered a K-12 school, STEM School Highlands Ranch near Denver, Colorado and began to shoot.

A male and female entered the school and used a pair of handguns as they shot into two classrooms. Two students were killed, one being a senior with days remaining until graduation. The senior, Kendrick Castillo, died trying to save lives of others by charging towards the shooter. Eight other students were injured but survived.  

The grieving community just hit the 20th-anniversary mark of the school shooting at Columbine in Littleton only eight miles away from where this shooting at STEM School Highlands Ranch took place. It took 48 minutes for authorities to respond to the Columbine shooting in 1999 but in this case, authorities were on campus within minutes of the 911 call that came through.

Highlands school did not have an on-campus resource officer, but they did have a private security guard who confronted one of the shooters first. The security guard was able to tell the authorities what the suspects were wearing and where they were located in the school.

Brendan Bialy, another senior, took action with his two friends and tried to tackle the shooter, one of the boys lost his life in the process. A 17-year-old boy and son of Fernando Montoya was shot three times, but he survived and was released from the hospital.

"

Thank God he is fine…Even though he got shot, he's OK. He's going to walk out on his feet."

— Montoya told CNN Affiliate KMGH

" 

The motive for this horrible act still remains a mystery that needs to be solved. 1,850 students attend this school and authorities are still unsure of where the suspects were living.

About the Contributor
Emily Anderson, Journalist
I have lived in Sartell for 4 years now, and I am a senior at Sartell High school. I have a tenth-grade brother who attends SHS and three other siblings...