600 rockets targeted Southern Israel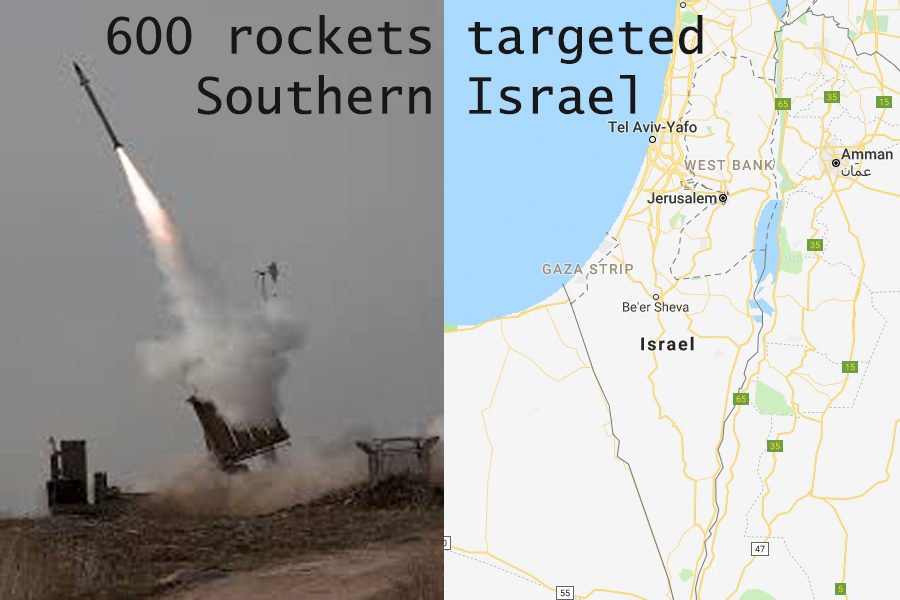 On Sunday, May 5th, 2019 over 600 rockets were shot towards Israel from the Gaza strip, and the bombing resulted in killing four Israelis and 25 Palestinians.
The rockets started their journey towards Israel on Saturday, May 4th, as many Israelis took cover and prayed for their homes, businesses, or family members house which were all considered targets. The rockets reached their destinations throughout the night. On Sunday within an hour time frame, 50 rockets cruised toward their targets like rapid fire minutes apart from another.
The targets included the southern part of Israel cities consisting of Sderot, Ashdod, Ashkelon, Yavneh, Gedera, and Beersheba. The combined population of those cities is roughly 600,000 residents. Out of the 600 plus rockets, only 39 crashed into their targets resulting in the four Israelis deaths. 240 out of 279 rockets were successfully intercepted by the Iron Dome (Israel's land based mobile defense system) and knocked them off course. 410 rockets hit uninhabited areas and were not engaged by the Iron Dome.
Israel stuck but by sending 320 airstrikes at targets across Gaza including tunnels, rocket launcher sites and other military compounds used by Hamas and Palestinian Islamic Jihad, along with a mosque called al-Shati in northern Gaza.  All fuel imports to Gaza were to be stopped effective immediately.  Turkey decided to try to settle this by condemning a strike on a building housing office of its state-run Anadolu news agency. Israel says that this building was also used by Hamas' military intelligence.
"
We urge all governments that claim to defend press freedom, including @USEmbassyTurkey to join us in condemning the Israeli government."
— Spokesman for Turkey's President
Israel announced that they will be closing the two border crossings between Israel and Gaza, along with closing off the Gaza fishing zone. As of right now, there is no exact date when the closings will happen.

About the Contributor
Emily Anderson, Journalist
I have lived in Sartell for 4 years now, and I am a senior at Sartell High school. I have a tenth-grade brother who attends SHS and three other siblings...