Tragedy strikes on Easter Sunday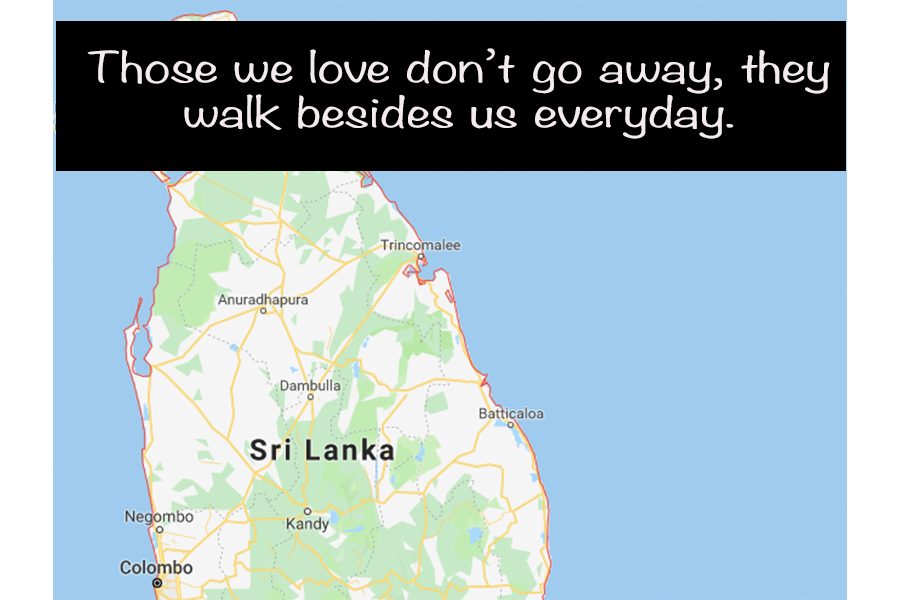 On Easter Sunday, April 21st, 2019, tragedy struck Sri Lanka as nine suicide bombers detonated explosives in churches, hotels, and inside the home belonging to the family that resulted in 359 people being killed.
The leader of this attack was a 40-year-old man, Zahran Hasim, who expounded extremist views in online sermons. Hassim's target was on Colombo's Shangri-La Hotel along with another one of the bombers.  Security footage shows the two men walking into the breakfast cafe, and one appeared to smile as exiting the elevator.
Another one of the targets was St.Mary's Cathedral, but the bomber left once it was apparent that mass was over. Instead, the bomber carried a backpack along with another bag and headed toward Zion Church, which was nearby. The pastors at the church become suspicious and stopped the attacker. The bomber detonated the explosives in the courtyard resulting in killing 28 people. Among those 28 people were children who had gathered to eat breakfast in the courtyard as well.
One of the bombers was a woman.  During a police raid near Sri Lanka's capital, Colombo, the suspect blew herself up in front of her children, killing them all along with several police officers according to investigators at the scene.
Over 60 arrests have been made showing a connection to the bombings or are suspected of being connected somehow. Officials are still trying to confirm the connection to ISIS after eight men with knives wearing black hoods posted a video claiming responsibility for this horrific event.
Supposedly India interviewed a man connected to ISIS last year where he admired what Hasim had posted on his social media. A warning was sent to Sri Lanka government officials but was never received.
President Maithripala Sirisena tried to deflect criticism that he was at least partly responsible for the security failure during a national address on Tuesday. Sirisena acknowledged that "There was an intelligence report about the attack." But he said he was "not kept informed" about it by his subordinates. Mr.Sirisena asked Hemasiri Fernando, the defense secretary, and Pujith Jayasundara, the inspector general of police, to resign on Wednesday, according to a senior official at the president's office.
A member of Parliament who was an army chief in the last stage of Sri Lanka's civil war, Sarath Fonseka, told Parliament on Wednesday that he knew about the memo, and so did the national intelligence chief. 
"
Obvious that the letter would have gone to the president."
— Sarath Fonseka
---
Sri Lanka's bombing victims will forever be missed – this is an incomplete list because not all of the victim's identities have been shared with the public.  
Danadari Kuruppuachchi, 36, and Clode Eshan Rangana Fernando, 41, along with their three children; Fabiola Fernando, 6, Leona Fernando, 4, Seth Fernando, 11 months.
Shantha Mayadunne of Sri Lanka, and daughter, Nisanga Mayadunne.
Ravindran Fernando, 61, of Sri Lanka.
Mary Otricia Johnson, 47, of Sri Lanka.
M.H.M. Ibrahim, 23, M.N.M. Nisthar, 21, B.A.D.N. Shantha, 50, T.A.A. Yaheya, 36, and G.M.D. Sanjeewani, 35.
K. Pirathap, 38, of Sri Lanka, his wife, Anashdi, 35 and their two daughters, Antinaa, 7, and Abriyaana, 1.
Ramesh Raju, 40, of Sri Lanka.
Sharon Stepan Santhakumar, 11, and his sister Sarah Epzhibah Santhakumar, 10.
Berlington Joseph Gomez, 33, and Chandrika Arumugam, 31, and their sons, Bevon, 9; Clavon, 6; and Avon, 11 months.
Gayani Fernando and her husband, Tyronne Gulding, 56, and her mother, Mary Anaslyn Silva.
Calistas Fernando and two of his family members.
Zayan Chowdhury, an 8-year-old.
Enosh Silva, 12, of Sri Lanka.
Jiyasha Sheshani Janz, 12, and her mother, Dineesha Geethani de Vaas.
Gowda Ramesh, K.M. Lakshminarayan, M. Rangappa, K.G. Hanumantharayappa and Sri Hanumaiah Shivakumar.
Razeena Khader Kukkady, 68, an Indian.
A. Maregowda, H. Puttaraju, Vemurai Tulsiram and S.R. Nagaraj.
Serhan Selcuk Narici, 34, of Turkey.
Yigit Ali Cavus, 25, of Turkey.
Anita Nicholson, 42, of Britain, and her children, Alex Nicholson, 14, and Annabel Nicholson, 11.
Sally Bradley Harrop, 56, and Billy Harrop, 56, both Britins,
Daniel Linsey, 19, of Britain
Amelie Linsey, 15, of Britain
Lorraine Campbell, 55, of Britain
Dieter Kowalski, 40, an American
Kieran Shafritz de Zoysa, 11, an American
Manik Suriaaratchi of Australia
Alexendria Suriaaratchi, 10, of Australia,
Rui Lucas, 31, of Portugal
Monique Allen, 54, of the Netherlands
Kaori Takahashi, 39, of Japan,
Maria Gonzalez Vicente, 32, of Spain,
Alberto Chaves Gómez, 31, of Spain
Ahmed Zain Jaafari and Hani Maged Othman

About the Writer
Emily Anderson, Journalist
I have lived in Sartell for 4 years now, and I am a senior at Sartell High school. I have a tenth-grade brother who attends SHS and three other siblings...