A big win gives the boys basketball team the CLC conference title
March 4, 2019
The Sartell boys basketball team and fans honored their seniors last Friday night, March 1st, in the best way possible.
The fans cheered as the seven seniors were announced one by one onto the court while being escorted by their parents. The night also included a sheet of paper honoring the boys and their favorite memories whilst playing on the team. The 2019 seniors include Luke Tillotson, Matthew Weno, Jake Schelonka, Alex Virnig, Dylan Notsch, Patrick Stalboerger, and Thomas Gieske.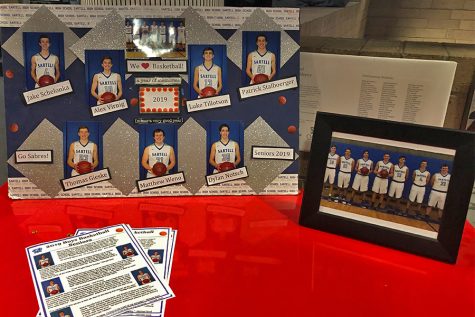 On top of all the craziness of senior night, the boys were playing for the CLC conference title. When the buzzer rang at the end of the second half, the boys celebrated as they took the conference title over the Brainerd Warriors. The final score was 84 to 61 with the top scorers being Luke Tillotson with 27 and Thomas Gieske with 15.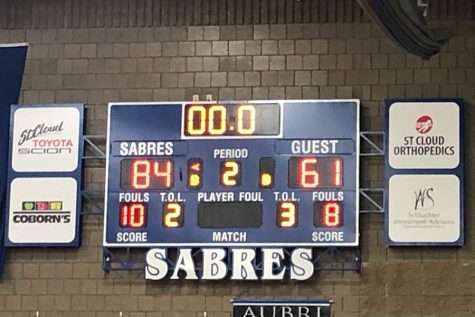 Even though Tillotson and Gieske added the most points, the entire team come together to get the W! Jacob Bjelland contributed 8 points to the scoreboard and both Jake Schelonka and Alex Virnig had 7 points. Other contributions came from Matthew Weno, Matt Sieben, Cody Lantis, Dominic Hagy, and Thomas Ellis. The entire team came together to play a cohesive defense as well.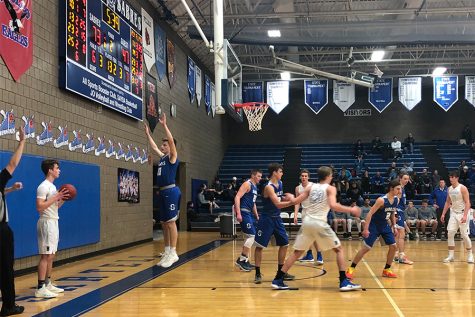 At the start of the game, the seniors come onto the court with lots of energy and were up 45 to 26 at half-time. The Sabres held the lead the entire game and outscored the Warriors in both halves. The team effort led the boys to the first Central Lakes Conference Title since 1996.
The Sabres team has earned the number two seed and will play the number seven seed, Little Falls, for their first playoff game. The game will take place tomorrow, March 5th, at home.