Sartell choirs take on 2019 Solo Ensemble Contest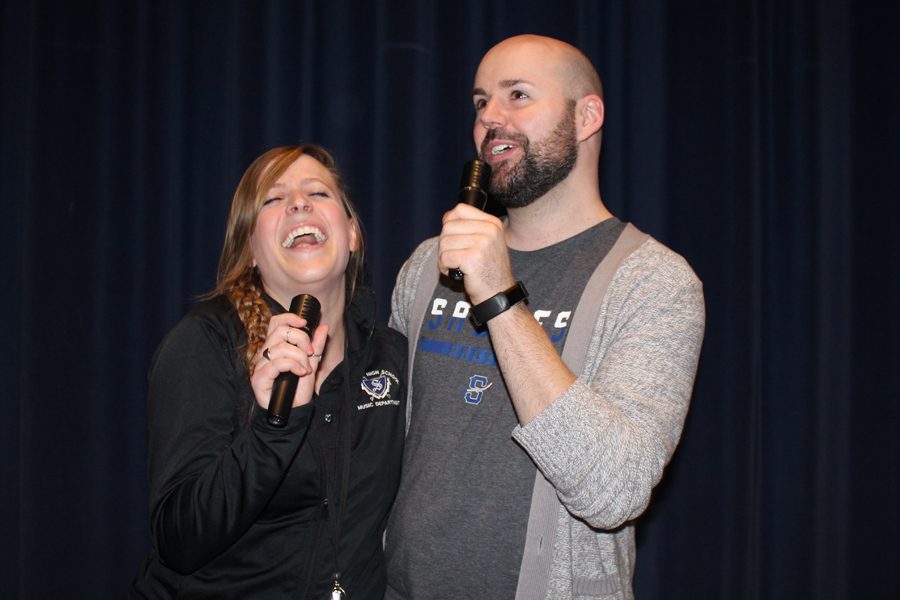 Five schools gathered at Sauk Rapids High school on February, 13th 2019 to show off their singing skills before their judges at the Solo Ensemble Contest 2019.
The five schools which include, Little Falls, Alexandria, Sauk Rapids, Brainerd, and Sartell Choirs arrived at Sauk Rapids High School one by one into the gym around 8 am. Schools started to warm-up and when looking around, you could tell who was worried and who was confident they would do great!
At 8:30, judging began and the gym soon became vacant. The Sartell choirs warmed up in our individual groups and went to the five different sites to watch every school perform. The site I went to first was in the Career Center to watch Emily Sarff perform, Per la Gloria D'adoravi by Giovanni Bonocini. Personally, I thought she did amazing and hoped she would get a Superior (which is the highest rating). Her judge, Beth Anderson, loved her performance and had just a few things to add to the cake! You could tell that Emily was nervous but once Beth started talking to her about what she would improve to make her piece sound even more amazing, you could see the confidence in Emily grow. While waiting for her results, we went to go watch the Famous Sartell Barbershop boys' group perform. After their performance, Emily and I went to go check her scores. Like I hoped she would get, she got a Superior!
When asked how it felt to achieve a Superior rating, Senior Emily Sarff stated, "Wow, suck on those eggs."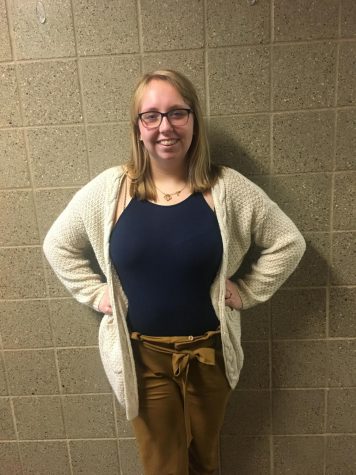 The famous Sartell Barbershop which consists of Nolan Lund, Carter Vonderahe, Dylan Pringle, Daniel Binsfeld performed their piece, "Spend My Life With You" by Kyle Kitzmiller at 9:30 am. The whole site was packed with Sartell choir members to come to watch them perform. Every time in the past I have heard them perform it kept getting better each time! Everyone was in awe of how well they did, including their judge Stan Carlson. During the whole performance, they showed their emotion through their piece and could tell they loved every minute of it. The Barbershop quartet got a Superior as well.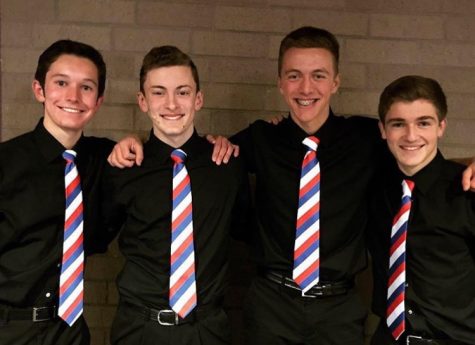 After rehearsing for 45 minutes around 10:20, I  nervously performed my solo, "He's Gone Away" by Ruth Elaine and was judged by Stephen Kingsbury. My friends, Janey Peterson, Emily Sarff, and Kinzie Agresto told me afterward that I did amazing even though I thought differently. I did mess up a few words in the song but because I sang so quietly no one noticed. After a few hours, I checked my score which was an Excellent (second highest rating).
My friends and I ran to the auditorium to see the Sartell Chamber Choir perform their two pieces at 10:30 am:  "Water" by Anders Edenroth and "Prayer of the Children" arranged by Andrea Klouse.  I am sure it gave everyone goosebumps! Their first piece, "Prayer of the Children," was very heartwarming and a tear jerker. All 17 members showed emotions during both of their pieces. Their second song was extremely cool! They tuned four water bottles and used them throughout the song which personally took it to another level. The Chamber Choir got a Superior from their judge, Michael Walsh, and you could tell every member of Sartell was proud of them. Mrs. Richards sat right in the middle during their performance in awe of how proud she was of the choir.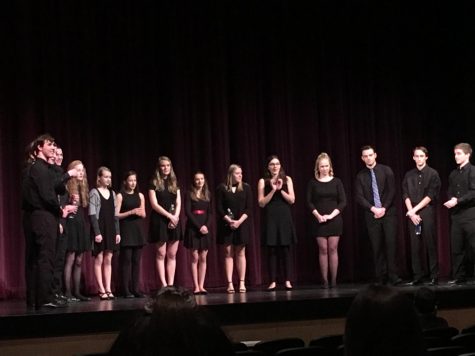 After lunch, my group and I went to watch Dylan Pringle perform his solo, Night and Day by Cole Porter at noon. The song story is basically singing about their true love and how they think of them both night and day. Throughout his piece, he showed emotion that made his performance interesting and intriguing. His judge, Beth Anderson, loved his performance and basically wanted to add some toppings to the cake. One key point that she said was to think of someone that is your world and someone who you think about Night and Day. Dylan picked his pianist, Mr.Nordhues. Beth had Dylan start his piece again singing to Mr.Nordhues. Dylan walked over to the piano, rested his head into his hand and sang to Nordhues. Everyone in the room laughed and giggled while he sang. Mr.Nordhues just looked at the piano keys and tried to not focus on Dylan singing in awe. Dylan got a Superior rating along with the best solo on site!
One of my favorite performances of the day was Rayanne Ahmed singing Nine Hundred Miles by Richard Walters. If you haven't seen Rayanne perform some sort of music piece, you are missing out! The way she shows her emotion and love for music is just heart-warming. She always puts a little twist on every piece she performs and has the gift of perfect pitch! The piece she performed showed how big of a range she has for being an Alto 2 in Donne Voce here at Sartell High School. I was not able to sit in while her judge, Michael Walsh, giving his feedback but she did get an Excellent!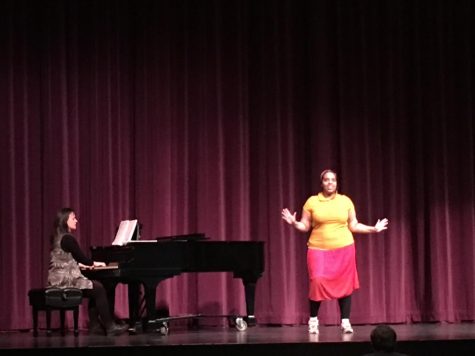 The second to last Sartell group to perform was Emily Domres, Taelor Nebel, Otto Klemp, Chris Baugh, Hannah Schnettler who performed Prayer by Dave Malloy, at 1:40 pm, which was in the "Ghost Quartet" musical. The piece is extremely hard to sing and follow the music correctly because it is in major and minor throughout the whole piece. I got the chills from how good it sounded! Beth Anderson, their judge, was amazed at how well they were able to perform their piece. The only thing that Beth had the group do was fixing how each vowel should match one another's vowel. Their group was the only Sartell group to achieve a Superior along with a perfect score of forty out of forty.
When asked if Otto's group expected to get a perfect rating Otto Klemp stated, "Nope, I didn't see it coming, I think there is always something that we could improve upon."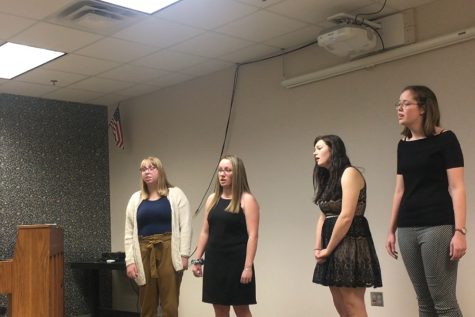 At  1:50, my favorite group, Kinzi Agresto, Emily Sarff, Megan Mechelke and Janey Peterson performed  All On A Silent Night by Becki Slagle Mayo. This remix of the Christmas classic Silent Night was jaw-dropping. They did this piece acapella and showed their love for the song. Beth Anderson who was their judge as well loved how they sounded as a group. To add the cake that was already a pretty amazing wedding cake, Beth had the girls stand in a circle and watch everyone's vowels. The girls said throughout of the day before they performed that they wouldn't get a Superior or even an Excellent but boy were they wrong! They also got a Superior and was very close to a perfect score because they sang an acapella piece without an accompanist.
When asked how they felt about being a Superior; Senior, Kinzi stated, "I didn't expect that… I'm glad we decided to do this because it's our senior year and I have a lot of fun!"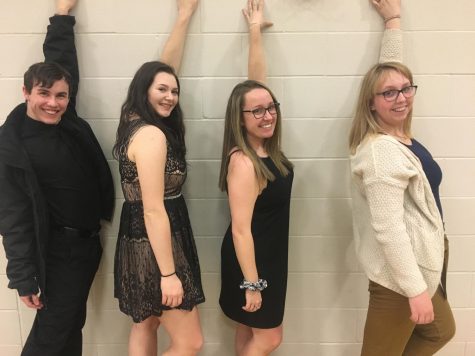 Janey Peterson, a Senior, stated that " I couldn't have done it solo."
Mrs.Richards and Mr.Nordhues both thought that contest went fairly well and thought everyone did amazing even though personally they thought some people deserved a higher rating, in general, they were extremely proud of Sartell High School Choir members.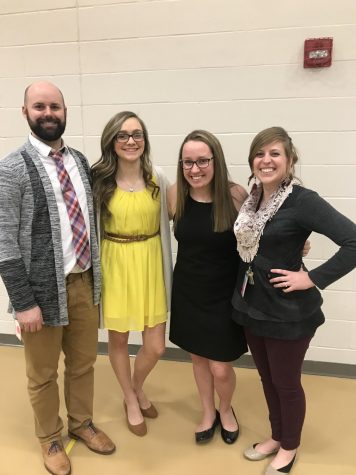 About the Contributor
Emily Anderson, Journalist
I have lived in Sartell for 4 years now, and I am a senior at Sartell High school. I have a tenth-grade brother who attends SHS and three other siblings...