Cathedral torn into pieces in just minutes
Two possibly terroristic bombs, minutes apart, blew a Philippines Roman Catholic Cathedral in pieces, killing at least 20 people and 81 others were wounded during their Sunday Mass on January 27th, 2019 in Manila, Philippines.
During Sunday Mass Prayer, a bomb was set off causing attendees to race for the main entrance. This first bomb caused many people to stampede towards the main doors causing injuries.   Not even a few minutes later, a second bomb went off in front of the Cathedral. Both bombs resulted in a total of 20 people being killed and 81 others were sent to hospitals for their injuries. During the first few hours after the attack, cell phone service was cut off.
A spokesman for the military, Col. Gerry Besana, told New York Times that, "One of the bombs exploded inside the church, while the other exploded in a nearby parking lot as congregants panicked and rushed outside."
After the first bomb went off, Army troops and police posted outside came rushing in through the stampede of people running away when the second bomb went off a minute after the first one causing more injuries and leading to multiple deaths. A suspected parked motorcycle may have had the second bomb sitting underneath it according to a report the military was looking into.
According to an article by NBC, Defense Secretary Delfin Lorenzana said in a statement "I have directed our troops to heighten their alert level, secure all places of worships and public places at once, and initiate pro-active security measures to thwart hostile plans."
No one has claimed responsibility for the attack, but increasing the security of all places of worship and public places will help maintain some hope that nothing will happen to anyone while being out in public even though a small amount of fear remains with everyone because of previous attacks.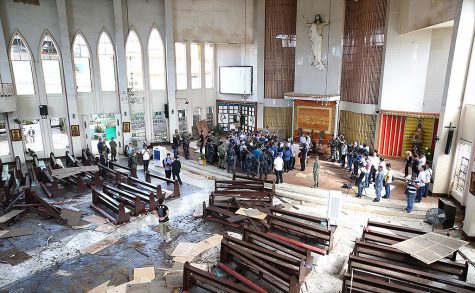 Oscar Albayalde, the national Philippines police chief, told ABS-CBN TV network that security officials were looking "at different threat groups and they still can't say if this has something to do with the just-concluded plebiscite."
Although no one has claimed responsibility for the attack, the Jolo Cathedral has been a frequent target for a group affiliated with Abu Sayyaf and the Islamic State. Two different grenade attacks have targeted the church in 2010 and no one was reported injured. Three years later, some churchgoers were injured in a similar attack.
Gov. Mujiv Hataman of the Autonomous Region in Muslim Mindanao told CBS news that "This bomb attack was done in a place of peace and worship, and it comes at a time when we are preparing for another stage of the peace process in Mindanao,…Human lives are irreplaceable."  Hataman called on Jolo residents to cooperate with authorities to find the perpetrators of this "atrocity."

About the Contributor
Emily Anderson, Journalist
I have lived in Sartell for 4 years now, and I am a senior at Sartell High school. I have a tenth-grade brother who attends SHS and three other siblings...