Are you following the world record "breaking" egg?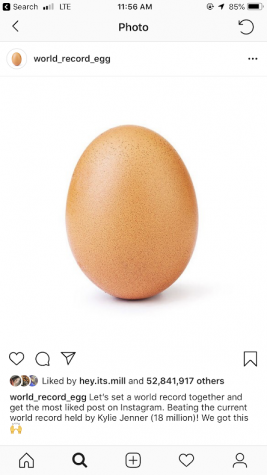 The new record for the most liked Instagram photo has been beaten. The record previously held by Kylie Jenner has now been broken by a photo of an egg that has reached over 52 million likes. Kylie Jenner's photograph she posted on Instagram announcing the birth of her daughter, Stormi reached 18 million likes.
The photo of the egg was posted on January 4th, 2019, and has already reached the highest amount of likes every seen on this social media platform.
In the original post, the "Egg Gang" posted the photo and captioned it, "Let's set a world record together and get the most liked post on Instagram.  The photo of the egg spread like wildfire gaining likes very quickly.
After seeing that the photograph of the egg beat her record, Kylie posted a video cracking an egg. She captioned her video, "Take that little egg." Since that post, there have been many "memes" posted about Kylie Jenner and the record-breaking egg. 
Since the original post of the egg, the account @world_record_egg has posted five more pictures. All of which has received over 7 million likes. The account has 9 million followers as of now.
To see the world record-breaking egg click here.
About the Contributor
Jenna Eibes, Journalist
Hi! I am Jenna Eibes, and I am a senior at Sartell High School. In my free time, I love to play soccer, take pictures, hang out with friends, and spend...