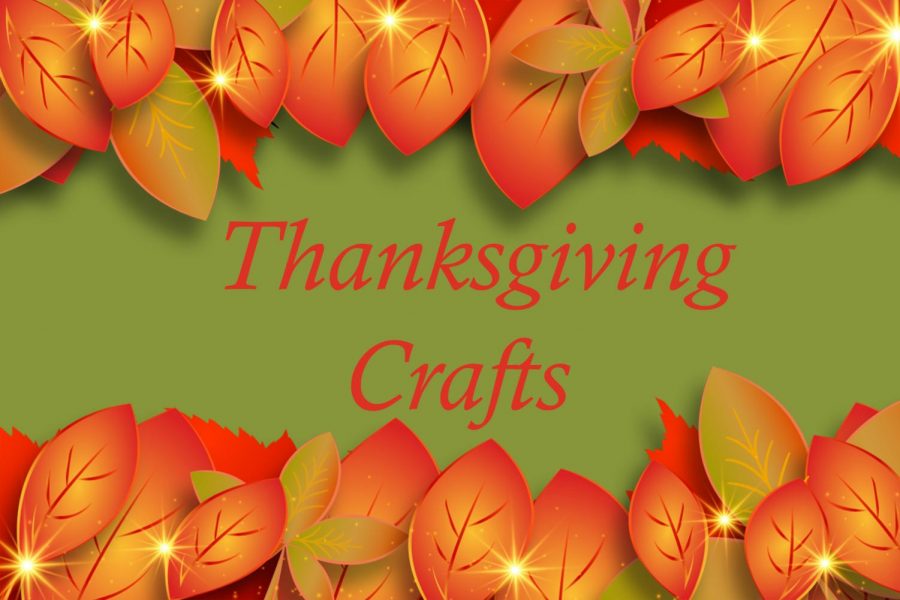 DIY Thanksgiving Crafts for beginners
Gratitude can transform common days into thanksgivings, turn routine jobs into joy, and change ordinary opportunities into blessings. -William Arthur Ward
Thanksgiving is a time of year to be grateful for what we have been given and is very recognized at Sartell High. You can be grateful for the things in your life by using at home items to make wonderful crafts. These DIY Thanksgiving crafts are sure to add charm to any household this fall.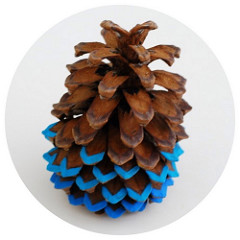 What you need:
A pinecone

Acrylic paint in three or four different shade of the same color

paint brush

An old toothbrush
Procedure:
Step One: Take your toothbrush and clean off dirt, bugs, and residue of the exterior of your pinecone. This should be done outside because it can be messy.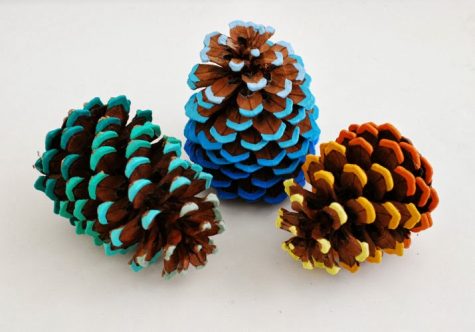 Step Two: After you have cleaned the pinecone to your liking, take your paintbrush and apply the darkest shade of your chosen
color to the bottom 1/4 of the pinecone.
Step Three: Continue painting the next lightest shade to the next 1/4 of the pinecone.
Step Four: Keep repeating this step by making the paint lighter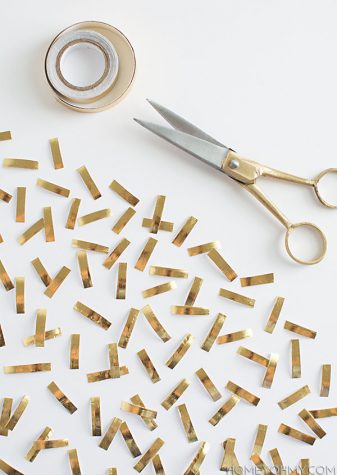 Step Five: Hang or place in a decorative bowl to add life to your home
What you need:
Craft Pumpkin

Washi Tape

Clear Nail Polish

Scissors
Procedure:
Step One: Take out your gold washi tape and cut each piece into one-inch rectangles. After that cut each piece in half lengthwise to create these skinnier confetti-like pieces.
Step Two: After you have the number of confetti pieces you want, you are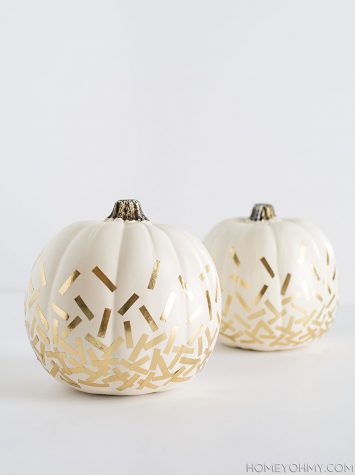 ready to place them on your pumpkin. Peel off the backing of the Washi Tape and place it on the pumpkin to your liking.
Step Three: Try and concentrate more confetti strips at the base of the pumpkin and get thinner as you work your way up.
Step Four: In order to keep the Washi Tape from wrinkling, you can add clear nail polish over the strips in order to keep the pumpkin in pristine shape for fall seasons to come.
What you need:

Galvanized steel bucket

Rust colored paint

Dark and light colored grey paint

Black paint

Sea sponges

Paint pouncer
Procedure:
Step One: To "age" the steel bucket, create rusted edges using your sponges. Sponge the rust-colored paint on the borders of the bucket. Once the rust paint has dried go over the entirety of the bucket with light and dark grey paint.
Step Two: After you've let the paint dry overnight, pick out a festive fall stencil to place over the bucket. (The one Kimberly used that says, Farm Fresh Pumpkins, is a perfect example. You can find these stencils at your local craft store.)
Step Three: Once you have your stencil placed to your liking, tape your stencil down on the galvanized bucket.
Step Four: Using your pouncer, fill in the stencil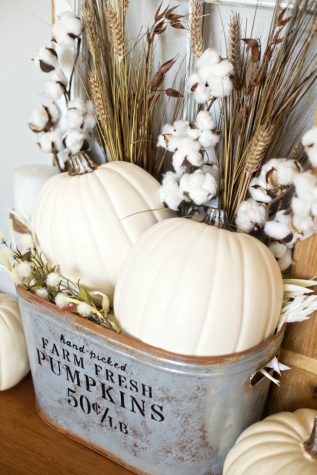 with black paint. You may need to add more than one coat. After you've filled in the stencil with paint, peel off the stencil layer and let it dry overnight.
Step Five: After you've let your bucket dry you can fill it with wildflowers and craft pumpkins to add some extra pop to your DIY craft.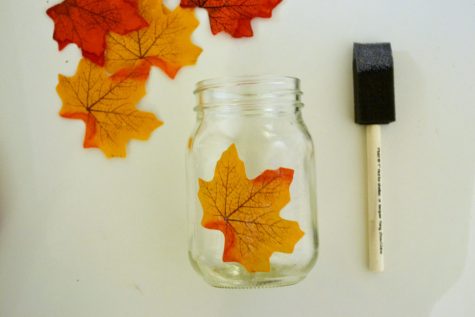 What you need
Mason Jar

Mod Podge

Real or fake leafs

Sponge Brush
Procedure:
Step One: First, make sure the outside of your jar is clean. If it is not, wipe down the exterior of the jar with rubbing alcohol to get rid of any grease. (If your mason jar has grease or grime, your leave with not stick.)
Step Two:
Once the mason jar is clean, paint an extremely thin layer of Mod Podge over the jar. When the jar become sticky, place a single leaf on top of the Mod Podge.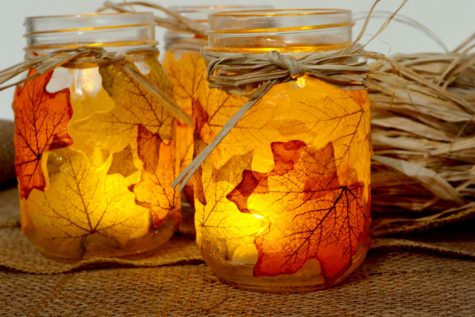 Step Three: When you have placed the lead down, flatten any edges and paint over it with another layer of Mod Podge. Keep adding more layers of Mod Podge until the leaf is secure.
Step Four: Keep repeating this process with as many or as little leaves as you'd like until the jar is to your liking
Step Five: Let your mason jar dry overnight, then you can hot glue some twin rope around the lid of the jar and place a candle inside.