Sartell boys' soccer game vs. Tech ends in a tie
Hang on for a minute...we're trying to find some more stories you might like.
The Sartell Sabres boy's soccer team played the Tech Tigers at Saint Cloud State on Monday, September 10th with a start time of 7:00 PM: the game resulted in a tie.
Both teams were ready to compete and prove themselves as the rivals took to the field. The game was intense with rigorous play till the end.
During the first half, the Sabres held the Tigers to only one goal. Senior goaltender, Thomas Connolly, made numerous impressive saves during the first 40 minutes of play, with a standout stop at the 11:04 minute mark. As the half came to an end, Connolly made another remarkable save with just under a few seconds remaining.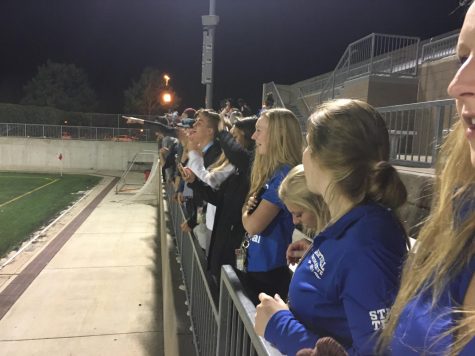 The boys of blue left the field looking tired but hungry for a win. The student section cheered as the players left the field for halftime.
Once the brief intermission ended the Sabres took the field with great spirit.
"
The first half was kind of tough but we came back in the second half. We came back at them hard and we fought… We were able to bring the energy up, and I would say we had a lot more energy than them, especially in the second half. It was a good game, a good game to watch."
— Eli Lawson
Sabres came back defiantly with a goal early in the second half. Tech did not leave this goal unanswered for long, as the Tigers scored shortly after this. The score was 1-2 with the Tigers leading until the Sabres scored again. The 2nd half ended in a tie, and both teams prepared for overtime.
With their fans behind them, the Sabres appeared optimistic and composed for the upcoming overtime.
The first overtime resulted in no winner and both teams prepped for another five-minute overtime. The teams played defensively and the game ended in a tie.
The final score was 2-2 with two five-minute overtimes. The Sartell Sabres played excellently and were gracious sports throughout the entire game.

About the Contributor
Lauren Lindmeier, Journalist
Meet Lauren Lindmeier! She is a 17 year old senior here at Sartell High School. Lauren spends most of her time at school and is usually running late (high...