The Good, the Bad, and the Delicious: Part 4
With more and more food places popping up all over the St. Cloud area, it's hard to find good food at a decent price. You're in high school, you don't have the time or the money to go to every food place and find the best deal for the best food possible. But that's why we're here, to do it for you. Every other week we explore different food options ready for us and find the Good, the Bad, and the Delicious in your next meal.
May 30, 2018
The taco is a simple creation that many prefer to go to for their meat and cheese wrapped in a hard or soft tortilla shell. One taco has basically an unlimited amount of food combinations; Cheese or no cheese, chicken instead of beef, to fully wrap the taco into a burrito, some guacamole on the side, or maybe you want some sauerkraut. Wait. That's actually really weird don't put sauerkraut on a taco, or pizza, or anything that is not a reuben. Tacos appease to many food palettes. But how do we know what taco is the best taco? You and two friends order 3 of the same tacos from 3 different locations and compare to see which one is the Good, the Bad, and the Delicious. This week we order your standard taco with beef, cheese, and lettuce in a soft shell from Taco Johns, Taco Bell, and Gilberto's.
Taco Johns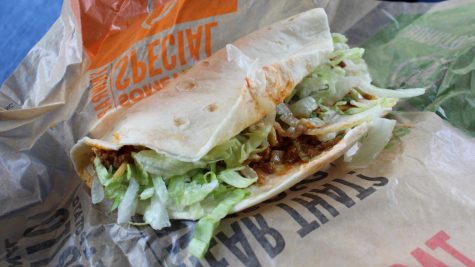 We started at Taco Johns and ordered our tacos, having to wait 20 minutes to be served because, untimely enough, an entire school knowledge bowl team was ordering before us. But as soon as we got the taco it turned out to be a quite "meh" experience. Although it tasted good, the taco was just far too limp. The lettuce was bogged down due to the oil in the meat that was dripping from the taco and surprisingly enough one out of three of the tacos we ordered had a tortilla shell that was harder than necessary, with even some crunch in a few spots. Despite the physical attributes of the taco it was delicious no matter how hard it was and tasted even better with a mountain dew and some potato oles on the side. Taco Johns is also everywhere and their food is easy to find and cheap.
Cost: $1.59
Rating: 3/5
Taco Bell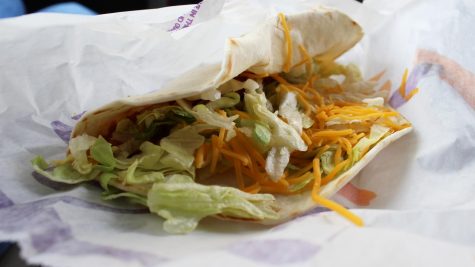 Taco Bell was our second stop and they got us our tacos in relatively good time compared to Taco Johns. This time the lettuce and cheese seemed unaffected by the oil and didn't limp. The lettuce even had a bit of crunch to it but unfortunately overpowered any taste of cheese. Once again this taco lacked in the shell because of it being uncannily harder than it should have been for a soft shell. However, a Baja Blast Mountain Dew and some Cinnabon Delights are the only thing keeping Taco Bells taco in play with Taco Johns, however after this endeavor we came to the conclusion that we preferred the overall flimsy but consequently more flavorful Taco Johns taco in comparison to the stiffer and dull tasting Taco Bell taco.
Cost: $1.19
Rating: 2.5/5
Giliberto's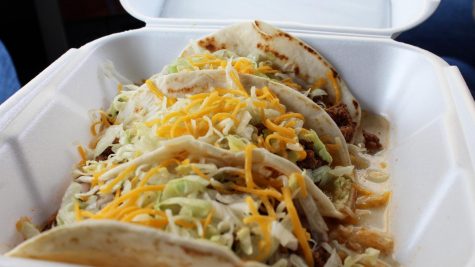 Giliberto's was the final stop. Having loaded up on tacos beforehand we were already done before we got there. How could we eat any more tacos? Yet we ordered and sat ourselves down, full from the abundance of Mexican cuisine we decided that we wanted. Once we received our tacos we reluctantly opened it up and took a bite, then another, and another. It was really good; despite our full bellies we persisted on, indulged, and enjoyed every bite. The taco was smaller and softer while the meat, cheese, and lettuce were all flavors that were easily distinguishable between each other rather than being one coherent flavor. This was also the only one of the three locations that seemed to have added actual seasoning. The only aspect that may be less desirable to some people is that there was a lot of oil at the bottom of the container, but rather than an oil that leaves you feeling gross in the end, it was more of one that enhanced the overall taste. This taco made the evening memorable and was definitely delicious. It probably could have helped that this was from an actual authentic restaurant rather than the other two not being so.
Cost: $1.80
Rating: 5/5
With this week's journey on the Good, the Bad, and the Delicious coming to an end, we came to a conclusion that authenticity truly does make a difference. With Giliberto's marked as the most delicious of tacos, followed by Taco Johns then Taco Bell, we say this week came to a successful end.