Journey to the Tourney : Boys Swimming
March 1, 2018
As a way of recognizing the athletic talent here at SHS, the LeSabre is going to follow state qualifying sports teams on their journeys to the tourneys. This edition is all about the Sartell Boys' Swim Team.
After a successful season, the Sartell boys swim team is headed to state yet again.  The boys had an undefeated regular season, won first at their Conference Championship, and for the 9th year in a row, the boys swim team swam their way to first place at their Section Championship last weekend in Alexandria.
Tristen Nies shared his thoughts with us about their Journey to the Tourney.
Q: What has the swim team done to prepare for this year's state tournament?
"A lot.  We practice 5-8 times per week, including 5:45am morning practices and Saturday practices.
Q: What has been a highlight of this season?
"Becoming Section Champions for the 9th year in a row."
Q: Who are your toughest competitors?
"Breck-Blake and Winona"
Q: What has been the biggest difficulty this season?
"Alexandria proved themselves to be a very tough team and were faster than we thought."
Q: What sets you apart from the other teams?
"I think the amount of work we put in every year shows that we work harder than a lot of other teams."
Q: What makes this season different than past seasons?
"Being a senior this year, the ending has become a lot more real."
Q: How do you think you will match up to your competitors?
"I think we will match up pretty well, we are hoping to place pretty high, hopefully in the top 3."
Q: What are you most excited about for state?
"I really enjoy hanging out in the hotel room with the team because it's a good bonding experience."
Q: If you could describe your Journey to the Tourney in one word what would it be?
"Wet"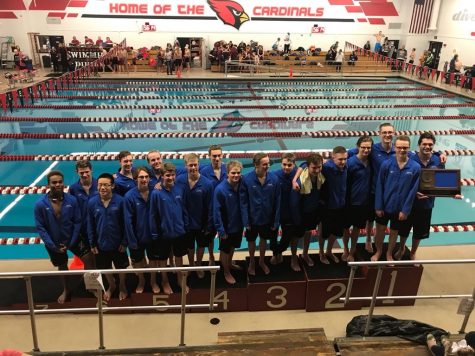 The Boys Swim Team placed 5th at state.  They put up a strong fight against their toughest competitors Breck-Blake and Winona, who placed 1st and 2nd.  Sartell's strong swim team was also sadly defeated by St. Thomas Academy and Alexandria.  We are all proud of the amazing Sabre swim team.  Congratulations Boys!