E-mail from Gender Equality Club strikes controversy
March 2, 2018
A controversial email regarding Gender Equality Club fundraiser was sent to all Sartell High School students on February 10th.  Since the original email was sent, two follow-up emails have been sent.  One was an apology email from Mrs. Steve, and the other was sent to all high school parents from Superintendent Schwiebert.  Several students, parents, and staff had complained about the initial email, and it struck up major controversy throughout Sartell High School.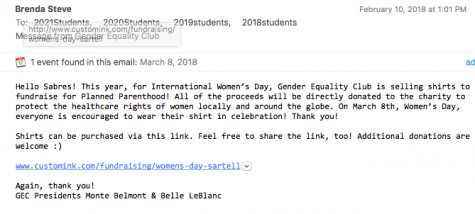 When founders of the Gender Equality Club, Monte Belmont and Belle Leblanc-Walz, wrote out the original email, they thought that it would be harmless.  They both agreed that their club and other clubs have sent out mass emails through Mrs. Steve before and did not see why this email regarding their club started such controversy.  Before the second email from Mrs. Steve was sent out to the students, Leblanc-Walz and Belmont had no idea about the issues regarding their emails and the views from parents, students, and staff that was making their club look like something it wasn't.  When they found out that Superintendent Schwiebert had written an email to the parents, Belle Leblanc-Walz said that she was taken off-guard.  Neither she nor Belmont had a chance to defend themselves nor their club to the administration before the emails were sent.  Belmont was appalled by the fact that the school administration got involved in the issue, and he felt that it would have been better handled on a parents-to-administration basis.  After hearing the controversy about their email and club, both Leblanc-Walz and Belmont decided to write a letter to the superintendent.  They both agreed they wanted to write the email not only to defend their club, but also to defend Planned Parenthood, and the lack of facts that the superintendent, a respected leader, included in his email to the parents.  They released their letter on social media and have since then surpassed their fundraising goal for Planned Parenthood.  Neither Leblanc-Walz nor Belmont has heard back from Mr. Schwiebert regarding his email or their letter that was written to him.

On the other side of the situation, are the parents, students, and staff that felt uncomfortable with the initial email that was sent via Mrs. Steve.  Senior Tyler Oehmen told me that when he first saw the email he just felt that things, such as Planned Parenthood, should not be pushed in school.  This belief was instilled in him by the way he grew up.  He said that as soon as he read the initial email, he felt that it was wrong and that it would not hurt to exercise his freedom of speech and say something and voice his opinion.  Regarding the second email, Tyler told me that he felt accomplished and that it shows that just a couple people voicing their opinions, can change a situation.