Chick-fil-A delivers complimentary meal to Sabre Girl's Basketball team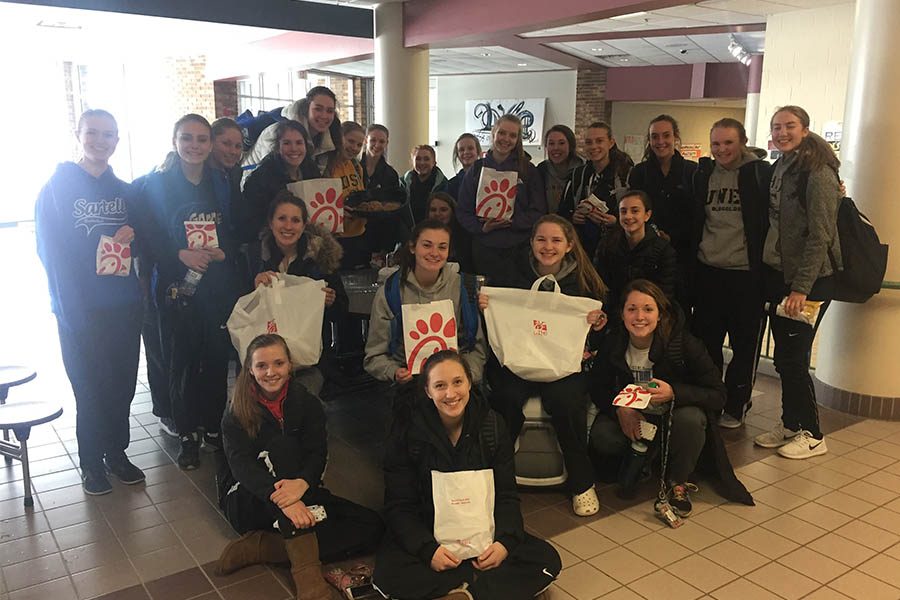 On Saturday, February 17th, Chick-fil-A delivered free chicken sandwiches along with chips, cookies, and beverages to the Sartell Girl's Basketball team after their morning practice. Chick-fil-A is a chain restaurant located in St. Cloud, MN near Crossroads mall.
Chick-fil-A has had a giving policy since founder S. Truett Cathy began the restaurant. According to the company, Chick-fil-A has donated over $68 million to charity and education since it was founded.
Founder S. Truett Cathy dedicated his life to giving back to the community, which eventually pushed him to keep Chick-fil-A a private company. Although Cathy could've had a great payday making the company public, Cathy aspired to keep full control over the company to ensure that Chick-fil-A kept giving back to the community.
Chick-fil-A takes open donation requests, so if you're interested in getting free food for your organization, fill out this form.
"
Nearly every moment of every day we have the opportunity to give something to someone else – our time, our love, our resources.  I have always found more joy in giving when I did not expect anything in return."
— S. Truett Cathy
About the Contributors
Lexie Lamont, Journalist
Grade: Senior

Go-to Article of Clothing: Turtleneck

Living Room Decoration Must Have: White ceramic cat

My Favorites: 

Brand-- Lululemon
...