Fads of Sartell
February 8, 2018
When you walk around Sartell High School do you notice the fads?  Many students keep up with the fads of today.  Here are just a few of the fads roaming around Sartell High School right now.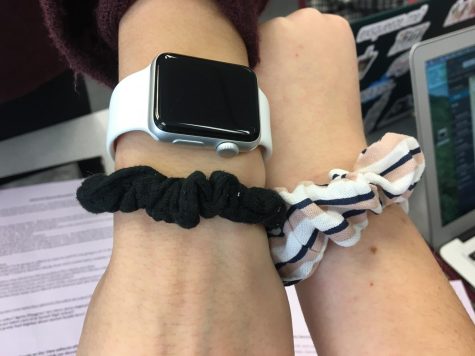 Scrunchies:  If you look around Sartell you will probably see one or two of these on any girl's wrist.  Scrunchies became a fad about a year ago and has continued into now.  Senior Megan Sieben says they come in all different shapes, sizes, colors, materials, and patterns.  You can buy scrunchies basically anywhere but Sieben says her favorite store to buy scrunchies is Franchescas.
Apple Watches:  Have you seen the bright watches around Sartell?  Chances are it was an Apple Watch.  Tristen Nies says that his watch is very versatile.  The Apple Watch has been around for a few years but just started becoming popular this year.
NMDs: The new shoe of Sartell.  Adidas NMDs are taking over the foot world.  NMDs have also just begun getting popular around Sartell this year.  They come in a lot of different colors and sizes.   The most popular around Sartell is probably black, grey, and white.  You can buy NMDs at most shoe stores.  You can see Lexie Lamont and her NMDs in the photo.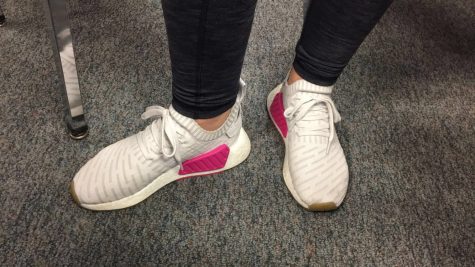 Better Sweaters: The Patagonia Better Sweater has been taking over the clothing of Sartell in the recent months.  Sartell senior Lexy Oftedahl says, "They are very warm and comfortable."  The Better Sweater comes in all different colors and is always a great sweater to spend your day in.
Rock Solid: Rock Solid is an amazing way to start your day.  The Herbalife protein shake-shop down the road from the high school has been around for many years and has been serving Sartell students with breakfast since opening.  Rock Solid shakes come in over 30 flavors and are very filling for any morning.
Stance Socks: Stance socks are all over the feet of Sartell students.  They come in all different patterns, colors, and styles.  Blake Webster says they are admirable and lovely.  Stance socks are available at Scheels and once in a blue moon, you can find them at TJ Maxx.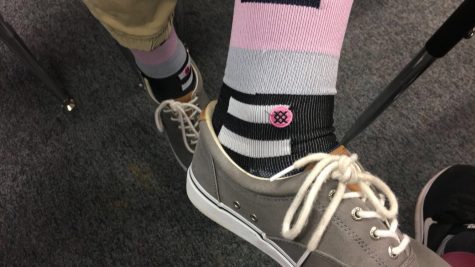 Parkas: With the cold winter, comes big jackets.  Parkas are the newest fad around Sartell.  Parkas/long jackets are the best way to spend the winter because it warms you up and is very comfortable.  Many Sartell students say they are also very comfortable to drive in because it feels like you're driving in a blanket.  Parkas come in many different styles and brands, the most popular around Sartell being The North Face, Columbia, and Patagonia.
Yeti Mugs: Yeti mugs are perfect for any hot or cold drink.  They can keep hot beverages hot and cold beverages cold.  Yetis come in a variety of colors and sizes.  The largest size is also perfect for a pint of Ben&Jerrys ice cream.  Yetis are sold at most sporting stores.