Yeti Cups– Are they worth the hype?
In a market filled with vacuum-insulated vessels, the YETI Rambler Tumblers stand out as 'personal drink coolers' to keep you sipping all day long.
February 1, 2018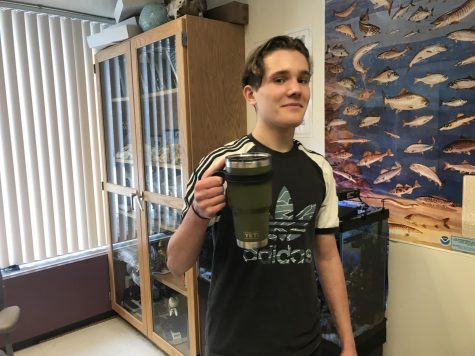 "
I use my Yeti for coffee, water, tea, and ice-cream."
— Ethan Plumier
Yeti originally came out with a cooler developed by several fishermen in hopes of them being able to keep their supplies and ice cold for their long days in the sun. They're made it strong and durable to be able to withstand harsh conditions. After the original Yeti cooler came out, the company decided to develop an insulated cup. The cup is stainless steel on the outside, and piping hot or frigid on the inside (depending on what you put in it).
The Yeti Rambler tumbler is one of the hottest fads in camping equipment currently.
If you walk into any Dick's Sporting Goods, Scheels, or other camping stores, you can't miss the large selection of colorful Yeti tumblers for sale. With their 20 oz Rambler Tumbler priced at $29.99, the Yeti price tag can be quite intimidating. So, is it worth the price?
The Yeti Company says their Ramblers are "made from 18/8 stainless steel with a double-wall vacuum insulation." Yeti guarantees their cups will keep drinks hot (or cold) for double the amount of time as its competition.
I put the Yeti Rambler to the test. I went and bought the Yeti 20 oz. Rambler and tested it out during the school week. I was astonished by the outcome. After a long day of school and basketball practice, merely 12 hours, the ice in my Yeti was STILL un-melted. When I tested the Rambler with tea, I was even more surprised. After a 9 hour school day, I still had hot tea waiting for me (which makes the price 100% worth it in my opinion).
I would recommend Yeti Tumblers to everyone because of their versatility and functional ability. They are great to use on warm days in the summer for a cold drink and cold days in the winter for a warm drink.
If you're interested in purchasing a Yeti, you can find one for sale at your local Scheels or at https://www.yeti.com/.