e-PAW-sode 10
Hang on for a minute...we're trying to find some more stories you might like.
The Sartell Doghouse is a weekly article that allows the students of SHS to flaunt their pets to the rest of the school by sending in pictures to the LeSabre
This week is the second-to-last edition of the Sartell Doghouse for this school year. The special pup to be featured on this edition is Cooper Fenway Martens. Cooper is an eight-year-old Labradoodle, and he belongs to junior Kristin Martens. Cooper's talents include chewing on tennis balls, fishing at the lake, and singing along to piano music. In his free time, Cooper loves to play with his squeaky tennis ball. Cooper has a very laid back personality, so he would most likely wear a relaxed style of a t-shirt, tennis shoes, and jeans.
Cooper has been with the Martens family ever since Kristin's mom and sister discovered him during a visit to a breeder an hour away from their home. Once Cooper was brought home, the rest of the family was surprised because the intention of the trip was never to bring home a puppy. Little did the Martens family know, they had just brought home the "love of our lives."
Cooper was born on March 11, 2009. He likes to celebrate by sneaking cheese sticks and going on the furniture when his parents aren't looking.
The Martens have been with Cooper through sickness and health, literally! Kristin's sister once ran over Cooper in her car, and as a result, he had a fractured foot and had to wear a cone.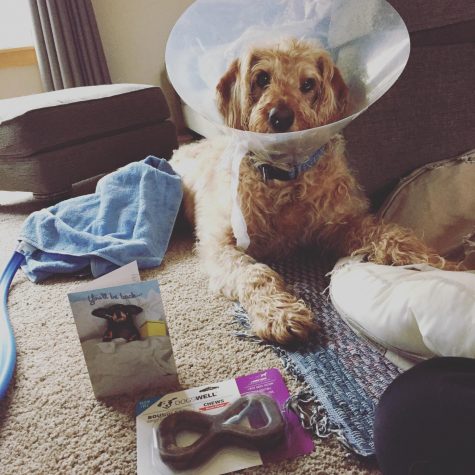 "
the love of our lives."
— Kristin Martens
To the Martens family, Cooper is not only a dog, but a family member. Kristin says he is, "the love of our lives."
If Kristin could communicate with Cooper she would tell him, "he is the most awesome dog I've ever met and also to go on the couches more often when the parents aren't home!"
If you think your furry best friend deserves to be featured, get ahold of the LeSabre staff or email us!

About the Writer
Jordan Mareck, Journalist
My name is Jordan Mareck, and I am a senior at SHS. I enjoy trying to play tennis and yelling at the refs during basketball games. This is my second and...