Sartell is LaCrazy for LaCroix
November 6, 2017
Sparkling water is often given a bad reputation because of unsweet flavor. However, many Sartell High School students respectfully disagree.
On September 27th, I did a taste test of different sparkling waters in Mr. Snyder's 3rd block to see what sparkling water most kids would fall for. I chose the orange flavor in the brands Dasani, Aquafina, and LaCroix. Each student that enjoys sparkling water in the class participated, as well as one student that has never tried it. The dixie cups were filled and the students were thirsty. In an unsurprising victory, LaCroix won by a landslide.
Most students had a difficult time tasting the Dasani flavor; they all agreed it tasted like bleach. The students were indifferent to the Aquafina, but LaCroix was the winner.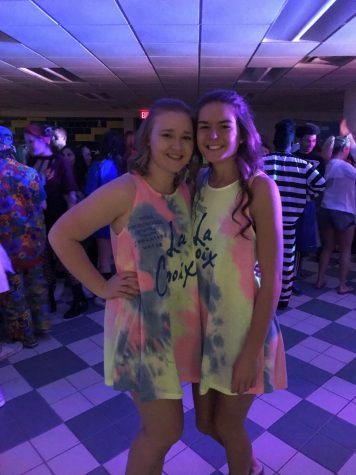 The cold, thirst-quenching beverage has taken the world by storm. Halloween costumes have even been designed for the crazed addicts. According to Fortune.com, LaCroix profits jumped from $49.3 million $107 million in the 2015 fiscal year. LaCroix is the talk and taste for millennials.
The colorful cans attract teens and have crazed their taste buds. Multiple studies have shown that this cold beverage will often have you reaching for another because of its natural flavor. It is guilt-free beverage because there are 0 calories, 0 sodium, and 0 artificial flavors in every can.
There is no lie that it could be considered uncommon but if you love it, you LOVE IT. There is truly no in between with these types of beverages. Sartell senior Colin Nord is quoted saying, "I have tried sparkling water seven times—each more painful than the last." However, I have about two a day.  To give an example of how addicting it can be, a girl was studying to be an accountant at a university and was an intern at a local office. They provided all their interns with free food and beverage, one of the beverages being Lacroix. Considering this boujie liquid often is only served in cases that are roughly $4-$6, she couldn't pass up this opportunity. By the end of her first day she had four, and at the next day she had ten. There was nothing that stopped her from reaching for another can; other than maybe going to the bathroom four times before lunch.
If you are trying to drink less soda, or simply don't like the bland taste of water, maybe pick up a can of LaCroix in the Sartell High School ale-cart line today for the small price of $1.25 to quench your thirst.