President Obama returns to his roots to say "Farewell" to the Nation
Hang on for a minute...we're trying to find some more stories you might like.
Last Tuesday night, our 44th POTUS made it back to Chicago last night to bid America one last adieu. Returning back to the place it all began back in 2008, McCormick Place,  Barack took the stage to express his gratitude not only to the people who got him there but to the very nation he has served for the last eight years.
The man the nation has grown for the last eight years to love, was greeted by applause and immense displays of love with every golden word. Beginning by thanking the nation for all of the well wishes he and his family have received over the past few weeks, he said "Whether we have seen eye-to-eye or rarely agreed at all, my conversations with you, the American people those conversations are what have kept me honest, and kept me inspired, and kept me going." 
Throughout the evening POTUS gave certain portions of his time to the important people and places who helped him in his grounding while leading the free world, including VP Joe Biden and wife Michelle.
Obama addressed his connection to the great city of Chicago by saying, "So I first came to Chicago when I was in my early twenties, and I was still trying to figure out who I was; still searching for a purpose to my life…It was on these streets where I witnessed the power of faith, and the quiet dignity of working people in the face of struggle and loss." The movement of his words caused an uproar of voices chanting "FOUR MORE YEARS!" Obama knowing full well that this was an impossibility continued with, "Now this is where I learned that change only happens when ordinary people get involved, and they get engaged, and they come together to demand it. After eight years as your president, I still believe that. And it's not just my belief. It's the beating heart of our American idea — our bold experiment in self-government." The underlying themes of POTUS's address would stem from four truly American areas: Immigration, Involvement, self-government and demanding change.
"
Whether we have seen eye-to-eye or rarely agreed at all, my conversations with you, the American people those conversations are what have kept me honest."
— Barack Obama
As the focus began to shift back to the economy, essentially Barack stated that, in comparison to the great recession that he inherited back in 2008, because we as a nation took a chance and believed in him and demanded a change, we as a nation are responsible for the change that has occurred over these eight years. He continues to urge the nation to continue in these habits. We have to continue, moving into the Trump administration and all administrations to follow, demanding the change that we as Americans thrive on. Saying that we need to continue paying attention to the issues that directly affect us, the citizens, Obama said: "That's what our democracy demands."
Later, as the roar of the crowd began to die out once again, Obama holds almost constant eye contact with one person. He says "Michelle LaVaughn Robinson of the South Side… for the past 25 years you have not only been my wife and mother of my children, you have been my best friend. You took on a role you didn't ask for. And you made it your own with grace and with grit and with style, and good humor. You made the White House a place that belongs to everybody."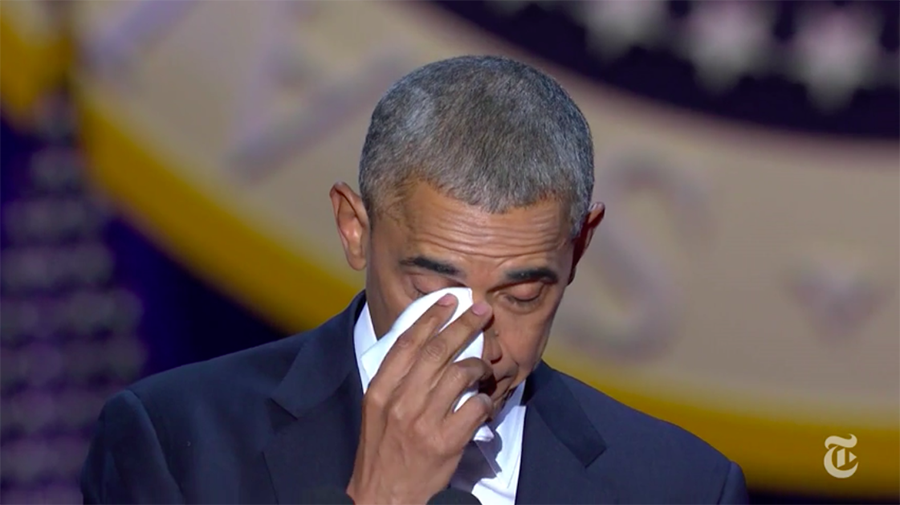 Tearing, he continues by addressing the growth and evolution of his daughters Sasha and Malia: "You are smart and you are beautiful. But more importantly, you are kind and you are thoughtful and you are full of passion."

Almost seamlessly as though he were another member of the family, Joe Biden becomes the next subject of focus. Referring to him first as "a scrappy kid from Scranton" and later as "Deleware's favorite son," Obama recollects that Joe was the first and best decision he would make as a DNC nominee. POTUS stated proudly, "Not just because you have been a great vice president, but because in the bargain I gained a brother. And we love you and Jill (the vice president's wife) like family. And your friendship has been one of the great joys of our lives."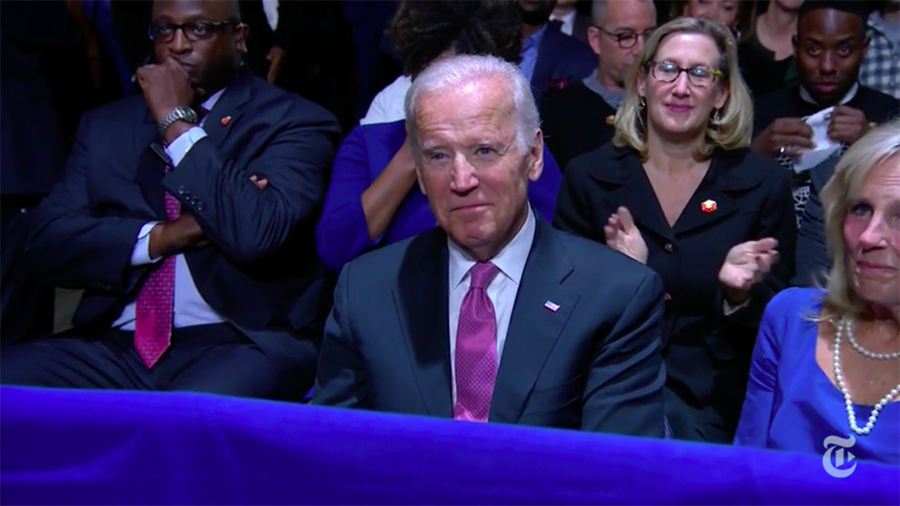 In closing, as a final and heartfelt goodbye to his constituents Obama made one final lengthy statement: "My fellow Americans, it has been the honor of my life to serve you. I won't stop; in fact, I will be right there with you, as a citizen, for all my remaining days. But for now, whether you are young or whether you're young at heart, I do have one final ask of you as your president — the same thing I asked when you took a chance on me eight years ago. I am asking you to believe. Not in my ability to bring about change — but in yours. I am asking you to hold fast to that faith written into our founding documents; that idea whispered by slaves and abolitionists; that spirit sung by immigrants and homesteaders and those who marched for justice; that creed reaffirmed by those who planted flags from foreign battlefields to the surface of the moon; a creed at the core of every American whose story is not yet written."
"Yes, we can."
"Yes, we did."
"Yes, we can."