Sartell Middle School band concert!
Hang on for a minute...we're trying to find some more stories you might like.
What better way to start out December than to listen to the youth of our community create amazing music? The 5th, 6th, 7th, and 8th grade band members had their first concert on December 1st, 2016. There were two concerts that took place, which included one for the 5th and 6th graders and one for the 7th and 8th graders.
The 5th and 6th grade bands were directed by Darrin Martinson. The 7th grade band was directed by Zach Miller and the 8th grade band was directed by Dave Lumley. All of the bands performed very nicely and have a great amount of talent.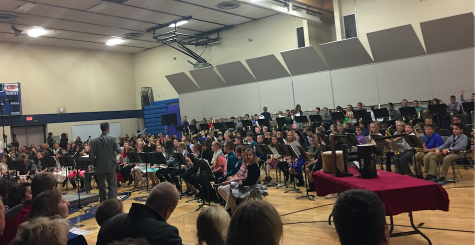 The 5th grade concert began as there was a parade of 150 kids coming in to take their seats. This is one of the largest bands that Sartell has seen, and they are quite good. Mr. Martinson demonstrated "The musical journey" these kids began from the beginning of 5th grade until now. He had the kids play their instrument as loud as possible and then brought it back for each section of instruments to show off and perform a solo. It is crazy to see how far a group of kids can come in such a small amount of time.
The students then went on to play two more pieces. The first was called "Shark Attack," and it was a great piece filled with suspense. The next piece they played was "Popcorn Prelude" and the cool part about this song was the kids actually jumped out of their seat when they had a solo moment. The movement did hold truth to its name as it looked like popcorn had begun popping.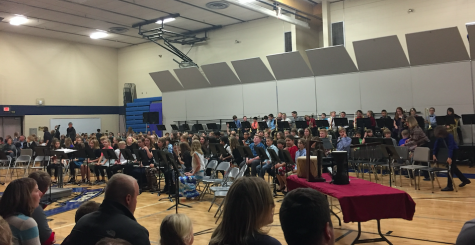 The 6th grade band played four songs. The first one was titled "Promenade," and it was more of a song based on marching. This song had a light and cheerful character of a pleasant afternoon walk. The second song was "Rattlesnake!" and they had placed for kids around the gym who would play instruments that sounded like snakes. The third song was titled "Concerto for Two Hands" and even had a guest appearance by Mr. Rick Cicharz. Mr. Cicharz had a little theatre act built into this song, and it was a lot of fun to watch and listen to. The last song that the 6th grade band played was titled "Rockadelic." This piece was very entertaining to listen to and is a piece for a concert band but still written in the rock style, which is something that a lot of music does not have.
The 7th graders played three pieces for their section of the concert. They performed "Newcastle Overture," "Chorale From Jupiter," and "Candy Cane Clarinets." All the pieces were very beautiful, and these kids did an incredible job. The songs were joyful and a great way to start out the holiday season.
Lastly, the 8th grade band performed four pieces at the concert. They performed "Downtown Dash," "Shalom!," "Dance of the Slippery Slide Trombones," and "Winter Holiday." The progression from watching a 5th grade band to an 8th grade band is incredible. It is amazing how many skills they have learned over the years. The 8th graders did a wonderful job and will be a great asset to the high school bands next year.
Sartell Schools truly have amazing music programs, and it is strongly recommended that you check out at least one concert. There are several future concerts that you can go to this month! The middle school choirs will perform December 8, 2016 at 6pm and 7:30 pm. The high school band with perform December 12 in the auditorium at 7:30 pm, and the middle school orchestra will perform at 6pm and 7:30 pm in the auditorium. Lastly, the high school choirs have their winter concert on December 19th performing once at 6:30 and again at 8:15 in the auditorium. Be sure to go out and support the music in our community as it is a fantastic program and a great way to spend your free time!