Cornerstone Buffet offers students and teachers discount
Hang on for a minute...we're trying to find some more stories you might like.
Are you looking for a nice place to eat in Sartell? Come to Cornerstone Buffet and Restaurant for some of the best food and service around!
Cornerstone opened November 23, 2015 after branching off from Cornerstone's other location in Melrose. It is a Christian based restaurant, but welcomes all guests.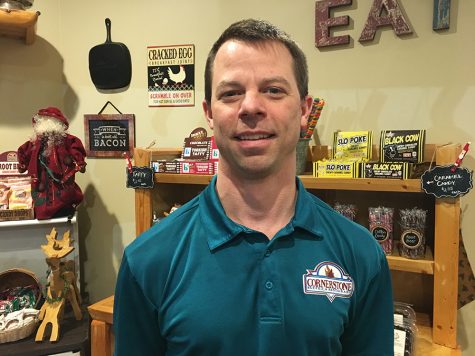 The owner of this establishment is Jeremy Kenning, who was the main manager at Melrose.
The restaurant gives a warm and happy feeling. The service is great; the servers are attentive and always try to make conversation and make you feel welcome. Other than the main part of the restaurant, there is also a large banquet room for big groups. Cornerstone has had many sports teams come in to eat and would love to see some of the Sartell sports teams come in for a bite.
Another fun part of the restaurant is the store in the front of the main restaurant when you walk in. It has fun crafts for sale, candies, jam, coffee beans, and more.
The restaurant has an amazing buffet. The buffet has an extensive salad bar, and the workers make all the salads from scratch; they get pretty creative with the salads. There is also a section for hot foods with homemade dishes such as popovers, creamy mashed potatoes, Cornerstone's famous chicken wild rice soup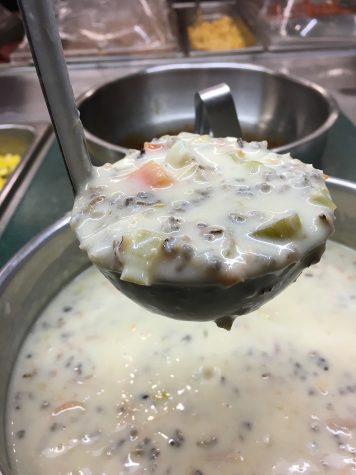 ,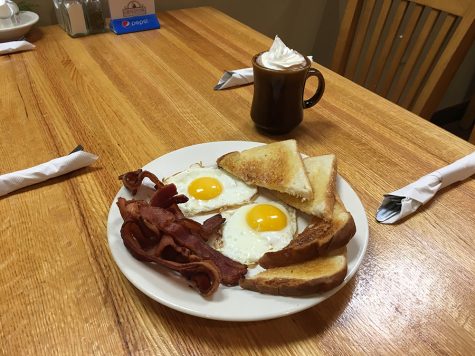 and more. The buffet changes it's theme every day, so there is always a fun variety of foods to choose from. Finally, there is a dessert bar with homemade desserts and a milkshake machine with plenty of toppings to add to the milkshake.
Other than the buffet, there is also a full menu. The menu includes a breakfast, lunch, pizza, salad, dinner, senior, and appetizer section. There is a kids' menu as well.
The restaurant makes their food fresh and from scratch. Vegetables and fruits are prepared and cut fresh for the salad bar. Cornerstone makes sure the food is the highest quality for the complete satisfaction of the customers.
There are other options for eating that aren't dining in as well. Cornerstones cater to big groups and have a full catering menu.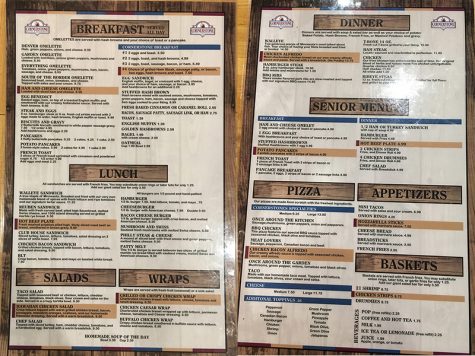 They will make sure your big event will be perfect with amazing food and service. They also have a famous chicken take-out dinner for $12.99 which includes 10 pieces of fried chicken, coleslaw, mashed potatoes, and creamy gravy. Customers can also order items off the menu for take-out.
Cornerstone is a small business that supports other small businesses. They buy from Melrose Meat Market, New Life Coffee in Rice, Cherry Grove Amish Food Store, and more.
The prices for the evening buffets Sunday-Thursday is $10.59, with the exception of Wednesday which is Family Night; the buffet is priced at $8.99. Friday and Saturday night is $11.99 per person. The lunch buffet Monday-Friday is $8.99. On the weekends, Cornerstone features a breakfast buffet as well for $8.99.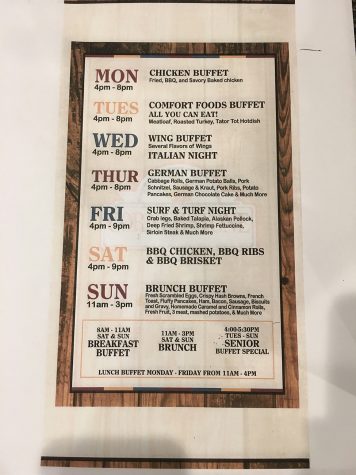 On Monday nights, it is senior night and the buffet is $7.99 for anyone 60 years of age or older. Children 0-5 years old eat free, and kids 6-11 years old eat for $5.99.
Cornerstone is open from 6 a.m. to 8:30 p.m. on weekends, so if you have an early morning they might be the only restaurant open for a yummy breakfast. On the weekdays, they are open at 7 a.m. and close at the same time.
Cornerstone is also featuring a new deal for Sartell students and faculty. You can receive 15% off any buffet or restaurant item if you bring in a student I.D. or faculty I.D.
So if you're looking for a new place to try out, try Cornerstone Buffet and Restaurant.
Phone Number: (320) 774-3004
Address: 101 7th Street North, Sartell MN