The Mannequin Challenge
Hang on for a minute...we're trying to find some more stories you might like.
Internet users all over the world have been seeing videos and/or hearing about the "Mannequin Challenge" lately. What is this you ask? It is a group of people who imitate mannequins. It all started on October 26th at Edward H. White High School in Jacksonville Florida and was a viral sensation inspiring others including celebrities and athletes to join.
When doing a Mannequin challenge, those participating will typically do a pose and freeze in one position. There is typically someone behind a camera who goes around and films all the frozen people. This gives an illusion to a "time-frozen" world.
"
We saw the choir's video and thought we could beat it. There is a lot you can do with the instruments and the band."
— Jessica Mergen, SHS Band member
Within the past week, we have seen Blac Chyna do this with doctors while giving birth! First Lady Michelle Obama even jumped on the mannequin challenge train and did one with the Cleveland Cavaliers. As this trend has spread it has become more intricate with people freezing while doing a handstand, lifting weights, doing gymnastics, etc.
Like all internet trends, this one has spread through the walls of SHS and has everyone here talking about it. The music program is loving it!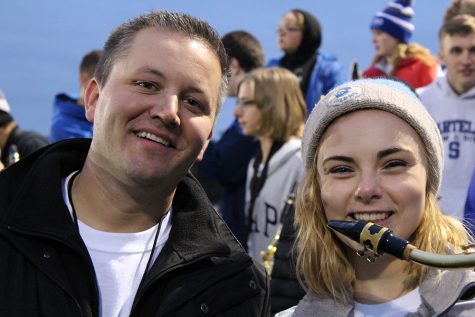 So far, one of Sartell's Choirs filmed one. Then Wind Ensemble, which is Sartell's 10-12th grade band, jumped on board. David Lumley (conductor of the bands at SHS), and Jessica Mergen (student) heard of the choir filming a mannequin challenged and decided to do one themselves. The band members used their own band room, and instrument storage room to film their video. With the use of all of their instruments, they got into fun positions and tried it out themselves! Check out the video!