More than just a game: Sartell vs Alexandria Football
Hang on for a minute...we're trying to find some more stories you might like.
As you probably know by now, Sartell football plays Alexandria tonight at 7:00pm at St. John's University. This game is a section final, in other words the winner of the game will go the Minnesota State Football Tournament. However, to us seniors, this is the most important game we will play in our lives. Let me take you back to freshman year to explain why…
Freshman Year:
There we were, freshman year, sitting on the bus to go to the Alexandria varsity football field. Everyone 30 pounds lighter and about 5 inches shorter, not knowing what we were getting into. Nobody had any idea whether the Alexandria freshman team was good or not. All we knew was that they were going to be big and physical because it's Alexandria. We were right. They were big and physical, but so were we. I remember this football game like it was yesterday. Ask any other senior on the football team, and they will tell you the same thing. Our undefeated season was on the line against Alexandria. Going undefeated was the goal we set and all agreed on before the season started. This was the hardest fought football game we had all ever played in. We weren't used to playing in close games as in all of our previous games we had won by a lot, so this was a different feeling for us.
"
The stakes have quite literally never been higher."
— Dan Ufearo
The game was tied 14-14 in the fourth quarter, and we were driving down the field very fast, the end zone was the only thing on our minds. We kept driving down the field with a couple big runs from John Schmidt and a few great throws from Chris Belling, and before we knew it, it was first down at the one yard line. We knew we had one of the best running backs out there, so we all wanted to run the football into the end zone on first down and get the lead. Our coach had other plans as he called a quick pass that was supposed to go to Tyler Snoberger. None of us agreed with this call, but we had to go with it. Chris Belling went up to the line, said "Ready, set, hut!" He took his one step drop and threw a spiral to Tyler Snoberger sitting in the end zone. The ball was just about to hit Tyler's hands, and we were going to be winning, but the Alexandria line-backer made a great read and a great play and just barely intercepted the football. We were feeling so many different emotions at that point. Madness, disgust, sadness, shock.  We were heartbroken, but we had to keep on playing because the game was still tied. We had to go out on defense, but we had lost all of our energy and momentum at that point, which resulted in Alexandria driving down the field and scoring a touchdown to win the game.
We were so shocked after the game that the whole bus ride home was silent. We were all mad, but we did not show it or ever talk about too much. We went on with the season and finished with a 7-1 record.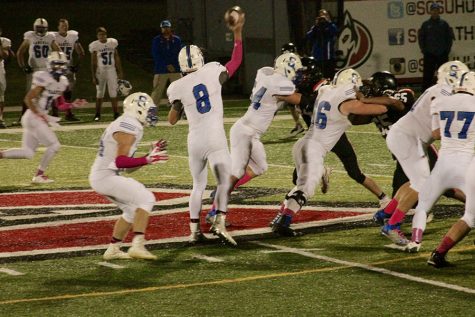 Sophomore Year:
Once again, beginning of sophomore year, our team goal was to go undefeated. We were very excited for this season as we knew that we could be a very good football team. We took a look at our schedule and there was only one thing that stood out to all of us: we were scheduled to play at Alexandria as the second game of the season. We knew that we had other games to focus on, but all we could think about was week two. We got the first game out of the way beating Tech. And then it was on to Alexandria week. The whole week everybody at practice was focused and locked-in because we were all very aware of what had happened the previous year. This was the game we needed to win because we needed revenge against this team. Thursday came, and we were ready. We were all ready to play. The bus ride was once again silent the whole way there. We arrived at the field and the first thing we noticed was that the field conditions were horrible. It was muddy, wet, and slippery. We did not worry about it too much though, as we were only focused on the game we were about to play. Just like our freshman year, I also remember this game like it was yesterday. This was another hard fought battle. It was more of a defensive game and not many points were scored in the first half. We had two starters go out for the game from injury: John Schmidt turned his ankle and I cramped up. But that proved to be no problem since we had a lot of depth with our back-ups.
It was the fourth quarter, about five minutes remaining, and we had the ball. We started driving the ball down the field with all passes. The clock wound down all the way to a couple minutes remaining, and we were around the 30 yard line. We were in a long yardage situation on third down.  To this day everyone on the offense knows the exact play that our head coach called, "I twins right 55 wheel." Chris got up to the line and said HUT, he was rushed, escaped a sack, stepped up in the pocket and threw the ball towards the end-zone. The only people in the end-zone were Riley Weihs and an Alexandria defender. The ball was in the air and everyone was holding their breath, anxiously waiting to see who would come down with it. The Alexandria defender jumped up for the ball, but badly mis-timed his jump and the ball went right by his hands and into the chest of our wide receiver Riley Weihs. We could not believe it at first. We all sat there in shock for a few seconds, but then rushed down to the end-zone to celebrate. The excitement was unexplainable. We had just won the game 16-12. We went on with the season and went undefeated. 8-0. That game is a memory that we will never forget for the remainder of our lives.
Junior Year: 
Unfortunately for our junior year, we did not get to play Alexandria. The central lakes conference for football was no longer a thing. We had moved into districts, and we did not end up in the same district as Alexandria and did not make it far enough in the play-offs to play them.
Senior Year: 
So now here we are, just hours away from kickoff in the section final game vs. the Alexandria Cardinals.
For everyone else on the team, the biggest game of their lives, but for the seniors the most important games of our lives. This is more than a football game for us…
It's a rivalry.
This game means so much to us, seniors, because the goal ever since freshman year was to make it to state senior year. Lawton Miller predicted during our freshman year, "We are going to play Alexandria our senior year to go to state." It's crazy how far we have come in four years, and that we could predict this exact moment four years ago. It has been a long ride, and we have all come together so much and formed a family. It's going to be hard to leave these guys when it's all over, but that is not what we are worried about. All we are worried about is beating Alexandria one last time, and what an opportunity we have. A section final game under the lights at the beautiful campus and field of St. John's University. I get goosebumps just thinking of it. In our eyes the series is 1-1 between the teams, and we need to win the third game and go out on top. 
"
We are going to play Alexandria senior year to go to state."
— Lawton Miller
Short interviews:
Chris Belling
Q: Why does this game mean so much to you and the rest of us(seniors)?
"
It's going to be a beautiful night to play football."
— Scott Hentges
A: Because we have put in so much work, and we have been dreaming about getting to state since we were little. We have always had a big rivalry with Alexandria and would love to beat them one last time.
Q: What are the keys to winning this football game?
A: Stopping their offense, especially their quarterback and running back. Also taking advantage of the holes in their defense.
Lawton Miller
Q: Why does this game mean so much to you and the rest of us(seniors)?
A: A section final game senior year is already enough reason to be the most important game of our lives, playing Alex in this game, makes it that much sweeter. We've said since freshman year that our senior year, we would be playing Alex and now it almost seems like this game was meant to be all along.
Q: What are the keys to winning this football game?
A: Alexandria has a really good team, especially their senior class. Although I respect them, I've always had a distaste for this team. Keys to winning this game defensively are to shut down the run game early, as we've done lately, by being disciplined in our reads and getting to the ball.  We have to be consistent tacklers on the perimeter, and not let up any big plays.