Girls' soccer is rolling
Hang on for a minute...we're trying to find some more stories you might like.
The biddies of blue are rolling. The Sartell girls' soccer team is picking up momentum at the perfect time.
It is playoff season and the girls' are playing their best soccer. They ended the regular season with three huge wins. They played in Willmar and won 3-0, beat Cathedral 2-0, and the biggest win was against Brainerd on Monday as they won 3-2. Brainerd was first overall in the Central Lakes Conference.
These big wins gave the Sabres a two seed heading into the playoffs, and they drew Rocori in the first round. They played Rocori on the Sartell football field on what was a beautiful night for soccer. The Sabres controlled this game right from the start. They won 6-0 and ended the Spartan's season. They got two goals from sophomore Brooke Walters, one from junior Chloe Yilek, one from senior Hannah Bergner, and one from senior captain Bria ferns. The defense has really played well lately as they are a big part of the shut outs. They are doing anything they can to keep the ball out of the net. For opposing teams, it has been pretty hard to put the ball in the net due to the success of Sarah Higgins and Allie Hemmesch. The two goalies split time in the net and do a fantastic job. In three of the last four games they have pitched shutouts. I feel bad for players on the other team trying to score on them because it does not happen very often.
The girls' hope to continue this success as the playoffs continue. Playoffs is a win or go home situation, so they know that they have to bring it every game. They play Cathedral high school on Saturday on the hill at noon in the second round of the playoffs.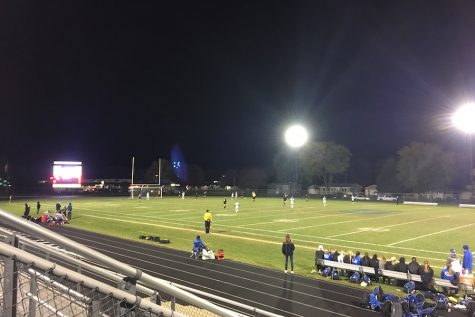 Brandan Walz