Sartell grants wish for Jackson Stewart
Hang on for a minute...we're trying to find some more stories you might like.
Jackson Stewart may be the most famous name in Sartell at the moment due to the gratitude of a community and their drive to make his wish come true.
Sartell Homecoming has evolved in the recent years to something bigger than your typical homecoming. We began Homecoming with a Cause last year when we raised money towards breast cancer research. This year, our cause was the Make-A-Wish Foundation, but not just the foundation in general. Sartell Student Council worked together with the Make-A-Wish Foundation and the community to adopt Jackson Stewart's wish.
A little bit about Jackson
Jackson is a 3rd grader at Oak Ridge Elementary school and when he was young, he was diagnosed with Duchenne's Muscular Dystrophy. Jackson's muscles are constantly fighting him, but the amazing thing about him is that he has never stopped fighting back. Jackson's family has showered him with love, care, and endless support for his whole life.
"
It's our new normal."
— Josh Stewart
They have adapted their lifestyle to the needs of his, and they have made their house handicapped accessible. As of now, Jackson is anything but handicapped. He has the energy you would expect from a boy his age, and a vibrancy in his eyes that is hard to find these days. Jackson inspired us, and during Homecoming last week, this determined young boy inspired the whole Sartell Community.
What did "adopting" Jackson's wish entail?
One thing we learned during this process was that anyone can adopt a wish. Once a wish is adopted, you become responsible for fundraising all of the money needed to grant that wish. The average Make-A-Wish cost is $6,500, and that is what we set our goal at. Our fundraising methods included selling Homecoming T-Shirts where $4 from each shirt went towards his wish, each $5 donation gave community members "I Support Jackson's Wish" buttons, and a $2 donation gave community members blue and white pom-poms to wave around at sporting events in support of the team, and in support of Jackson. In addition to these, there is a Make-A-Wish donation page for Jackson that is available for all to donate to his wish.
What is Jackson's wish?
One part of Jackson's condition is that eventually, he won't be able to run around with all of his friends like he does now. Jackson wants a golf cart, but not just any golf cart. He wants his to be red, green, or blue and he wants it to have cats on it.
How did Jackson get involved?
Friday, October 7th, 2016, was a dream come true for Jackson. He played a large role in the homecoming festivities throughout the night. He participated in the Homecoming Parade where he got to ride in a golf cart with homecoming royalty, Cami Doman. He was all smiles and many fans had collected along the side of the road to wave as he drove by. At the football game, Jackson was an honorary captain of the football team, and he got to go down on the field during warm ups. During halftime, Jackson walked out with his family during the Parade of Champions as his name echoed through the stands. Jackson couldn't stop smiling as he was brought into the Sartell fan section where enthused students cheered "We love Jackson."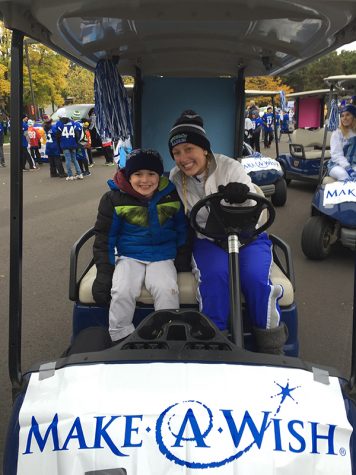 If you were inspired by Jackson's story, he's not the only one waiting for a wish to be granted. There are many kids and adults with illnesses that are a part of the Make-A-Wish program. There are many easy ways to get involved and donate. Thank you for your generosity.
The past few weeks have been an incredible experience for all involved. The heartwarming story of Jackson Stewart brought our community together in a way that made us all proud to call Sartell "home."
"Thousands of candles can be lit from a single candle, and the life of the candle will not be shortened. Happiness never decreases from being shared" -Buddha

About the Writers
Cami Doman, Journalist
Cami Sandra Doman, the first and only, is a senior at the best public high school in the whole world. Besides going to school, she plays hockey and softball,...
Jaren Martin, Journalist
Jaren Martin is currently a senior at Sartell High School. On the outside, he is very excited and enthusiastic for what the future holds, but on the inside,...