Marena's Bagel Shop Stop: Big Apple Bagels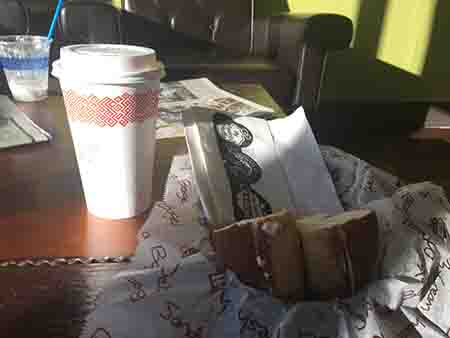 Hang on for a minute...we're trying to find some more stories you might like.
For the first installation of Marena's Bagel Shop Stop, I went to the Big Apple Bagel shop in downtown St. Cloud. I am making it my mission to find the best (in my opinion) bagel shop in central Minnesota.
Thursday, September 29th, 2016 at approximately 9:00 AM, I went to Big Apple Bagels in downtown St. Cloud. The shop is located at 701 W St Germain St, St Cloud, MN 56301. I did not know this shop existed until I went downtown to go to a different café.
A few things that I noticed when I got to Big Apple Bagels were that the shop was very warm and it felt like home. There was lots of natural light entering the shop. There was also a nice, large, open space for people to sit and lounge while they enjoy their bagel. The space was very calming, but the stereo in the shop was fuzzy and made it hard to relax.
The bagels were light and fluffy. The taste was amazing, and it was as if the bagel melted in your mouth. Unfortunately, the staff did not apply enough cream cheese. I'm sure they would add more if you asked, but the layer that they originally applied was less than satisfactory.
Big Apple Bagels is constantly offering deals and discounts. They offered a 10% discount for students that present their student ID. There are also many other coupons on their website. They are open from 6:00 AM-3:00 PM Monday thru Friday, 7:00 AM-1 PM on Saturday, and closed on Sunday.
Overall I give my bagel experience at Big Apple Bagels a 7/10.
The link for the Big Apple Bagels' is attached here: http://bigapplebagels.com/