The United States of America must receive "the huddled masses" of the Mediterranean shores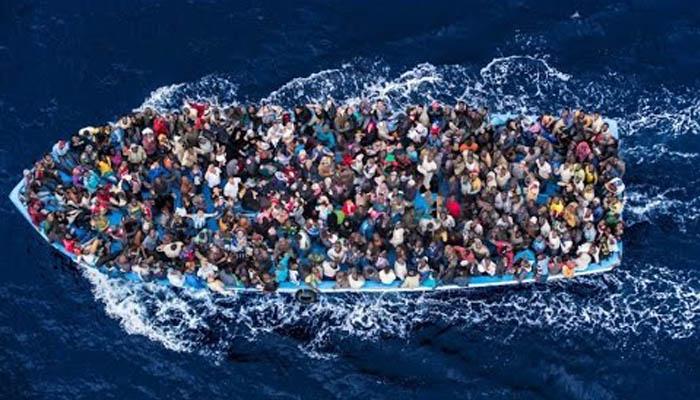 Not like the brazen giant of Greek fame,
With conquering limbs astride from land to land;
Here at our sea-washed, sunset gates shall stand
A mighty woman with a torch, whose flame
Is the imprisoned lightning, and her name
Mother of Exiles. From her beacon-hand
Glows world-wide welcome; her mild eyes command
The air-bridged harbor that twin cities frame.
"Keep, ancient lands, your storied pomp!" cries she
With silent lips. "Give me your tired, your poor,
Your huddled masses yearning to breathe free,
The wretched refuse of your teeming shore.
Send these, the homeless, tempest-tost to me,
I lift my lamp beside the golden door!"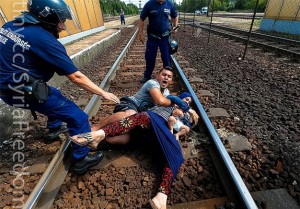 4,812,204 people have fled the wretched, three-way wrestling match that is the Syrian Civil War and became registered refugees. Another 897,645 have successfully applied for asylum within Europe between 2011 and December 2015. This adds up to a total of 5,709,849 people who have stated, by physical movement, that Syria – the ancient land with a history spanning through Greek, Roman, and Biblical times – is now less a Biblical homeland and more a growing sea of blood filled with islands of complete carnage.
The conflict ravaging the Syrian Arab Republic pits Bashar al-Assad's loyalist fighters against the Free Syrian Army and allied fighters, and the wretched excuses for human beings that make up the Islamic State of Iraq and Syria. This war has grown from a peaceful, democratic movement into a worldwide state of emergency that threatens to tear apart the Middle East as we know it and has created a refugee crisis unparalleled by any other since World War II. In the face of this global crisis, which has not only impacted the Middle East but also Europe, Africa, Asia, and North America, the United States – the leader of the free world and the land behind the golden door – has failed to do so much as poke the crisis with a 50-foot long pole.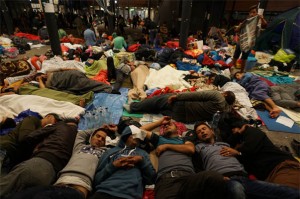 The United States government decided that it would accept 10,000 Syrian refugees between September 2015 and September 2016, and that it would gradually increase its overall refugee cap from 75,000 to 100,000 by 2017. Although calling these steps in the right direction is over-glorifying it, they are nonetheless steps in the right direction. However, there are countries that have accepted around 1 million refugees on their own, whether it was by choice – like Germany – or by pure circumstance – like the small Middle Eastern nation of Lebanon, which has its own sectarian problems. The United States – the third-largest nation on the face of this earth in both population and land area, and the wealthiest nation to have ever existed – is more than capable of accepting more than 2% of the Syrian refugee population at maximum when Turkey is currently holding nearly 50% of all Syrian refugees.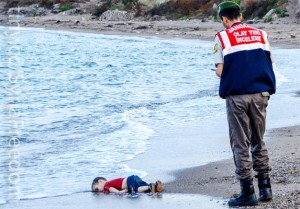 There are many people within this country who say that this is true, and that the United States is capable of receiving more than 10,000 refugees. However, there is also a large contingent of Americans who believe that accepting more of these mostly-Muslim refugees would be an irreversible and permanent security threat to our homeland. Although it is true that some of them may be terror threats – as shown by attacks that have occurred in Paris and San Bernardino – the truth of the matter is that over 99% of these refugees could not bring themselves to commit terrorist acts, especially after witnessing and experiencing first-hand the results of constant terrorist activity at the hands of ISIS. Also, with a screening process that has more than seven steps, lasts nearly two years, and involves agencies like the UN High Commission on Refugees (who only accepts 1% of all refugee applications), the FBI, the Department of Homeland Security, the Department of State; it is highly unlikely that the few refugees who are allowed to enter the United States are terrorist sympathizers. It is easier for the average American student to get accepted at an Ivy League institution than it is for a refugee to have their application accepted by the UNHCR, the first agency involved in a long series of processes that, for the worthy few, ends in resettlement in the United States.
"
Congress shall make no law respecting an establishment of religion, or prohibiting the free exercise thereof."
— The Constitution of the United States
With these extensive security screenings being placed on refugees – making it harder for a person to enter the United States as a refugee than through any other process – this may leave some to wonder why else people are unwilling to accept Syrian refugees. Some believe that Islam is an inherent enemy of the United States, even though the name "Islam" means "peace," and "Muslim" means "one who submits." If this were the case, then why would Muslim refugees even come to the United States in the first place? Or why would the United Nations – a global organization for world peace – allow these supposedly "hostile" refugees to settle in America, sewing the seeds of hypothetical conflict? Here is the question we should really be asking: Why should our nation deny Muslim refugees entry into the United States when our beloved and sacred Constitution states that "Congress shall make no law respecting an establishment of religion, or prohibiting the free exercise thereof?"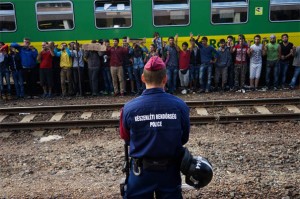 As the most powerful nation to have ever existed in the history of our Earth, and the leading nation of the free world, it is time for us to step up to the plate that is global leadership. As world leaders, it is up to us to take the risks needed in order to save those who are most in need, just as student leaders take risks and work hard to help those in need in our community. As world leaders, it is up to us to take the first step in finding homes for the "wretched refuse" of the teeming Mediterranean shores and in ending the conflict that is ravaging the Middle East and threatening to harm the world. As world leaders, it is time for us to live up to the lines in Emma Lazarus's poem, and take Syria's "tired…poor…huddled masses yearning to breathe free" and lift our lamp beside our "golden door."
About the Writer
Gopi Ramanathan, Journalist
Gopi Ramanathan is currently a senior at Sartell High School.  Although you probably know more than you've ever needed to know about him, here are a few...