The Wenshaus!
Hang on for a minute...we're trying to find some more stories you might like.
Oh the Wenshaus, what can't I say about this family? I first met Jack while I was injured during this last wrestling season, and we bonded over our injuries. He's a funny dude whom I'm glad to call my friend. And Julia? Well, she's a lot like her brother, down to earth and has a great sense of humor. Let's dive right in!
---
About Julia:
"Instead of hanging out with other friends we'll hang out with each other." It really was such a treat to listen to Jack talk about his sister the way he did. Not to embarrass him or anything, because I feel like some relationships between siblings if not all of them should be like theirs. Julia is an 11th grade dancer that also happens to be a journalist just like me (you should check out some of the articles she's written here, you won't regret it!) Julia has danced for a long time, but did you know she also used to jump in
Jean Wenshau
track? You know it's never too late to join again Julia… But nevertheless, Julia has been a great older sister to Jack and her other younger siblings. If you asked Jack though, he wouldn't even say she was his older sister: "It was super cool growing up with an older sister, but it was weird because I didn't look up to her and she didn't look down on me; we were kind of like partners in crime."  Some activities they like to do together include taking walks together, hang out and watch movies together, and sometimes video games." I used to look up to her because she was in a harder sport than I was, but since I joined wrestling that's not true." I know that's so much to take in about one person, but we're not done yet.
---
About Jack:
Jack Wenshau. I've always thought that Jack doesn't necessarily look like a Jack, but I've never told him that. Julia has been quoted as saying that Jack is very witty, and that when they have insult wars she usually gives up because he so witty. Another asset of Jack's is that he has one of the best smiles I have ever seen. Like, really. His face just lights up when you start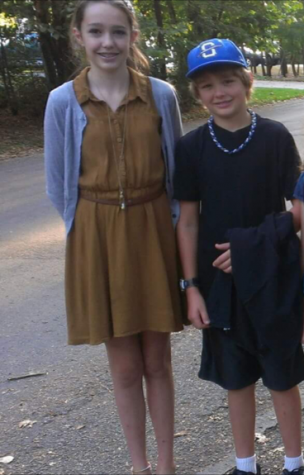 talking to him.  Jack is also a very good friend, and brother: "There's been a lot of times when it's been tough with friends, and I'll just get through the day but I know when I get home I'll always have my brother to talk to, because he'll always be my friend." It is not very hard to start and continue a conversation with Jack either; you could literally start talking to him about anything, and he'll probably continue the conversation. A very easy going person is what he is, for sure. "He's a really awesome brother, but an even better friend." How sweet! 
---
This has been by far my favorite issue of The Offspring to write. The stories I heard while listening to these two talk about their childhood was splendid! So if you ever have the chance to meet and get to know these kids, then I wouldn't skip on that opportunity. Make sure to check out Julia's work if you haven't already, and also to see Jack's amazing smile.